A view from the Kop. Liverpool 4-0 Fulham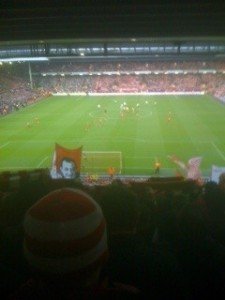 Well, this was a nice way to sign off from Anfield in 2012. …
The mood in the pubs before hand was one of anticipation and a good performance/result- and the redmen didn't disappoint.  An 'early goal' usually settles the Kop down, and yesterday's certainly did. As soon as the ball hit the net from a great finish from Martin Skrtel, the mood on the Kop was one of an inevitable and much needed victory. Some of our play was excellent yesterday, and I can't think of a better RB in the world than Glen Johnson currently.
Really pleasing to see Steven Gerrard 'return to form' and even more pleasing when he scored our second after some excellent play involving the much maligned, but massively improved of late Stewart Downing.
To go in 2 up at half time actually didn't do our play and possession justice as we were by far the better side.
We started the 2nd half as we finished the first- dominating, and the good vibes were further lifted by an excellent goal by Stewart Downing cutting in and rifling a fantastic finish into the net. Party time! The Kop was in great voice now and the players responded by absolutely battering Fulham.
It really was 'men against boys' and it came as no surprise when right at the end 'our Luis' scored a fourth.
This was a fantastic way to finish 2012 and everybody left the ground in great spirits and full of hope for 2013. With the right additions, 2013 could signal our return to where we feel we should be. I'm full of hope.
Happy Christmas and a prosperous and healthy new year to all. YNWA