Liverpool (1) Stoke (3): Best Before 1984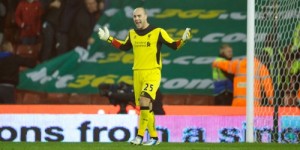 Liverpool are picture perfect inconsistency; coming from behind to beat West Ham leads into a thrashing at the hands of Villa. The perfect response was a four goal steamroller against Fulham only to turn around and concede three against Stoke. Are we coming, or going?
Luis Suarez — one in the same — wins a penalty from Howard Webb — one in the same — to put Liverpool ahead at the Britannia Stadium — one in the same — within the first two minutes of play and Steven Gerrard duly converts from the spot. As a platoon of pundits fall over themselves to talk about a turning tide, parity is quickly restored. A long ball down the center leads to an equalizer from boyhood Everton fan Jon Walters. A corner sees the home side take a lead into the second half through Kenwyne Jones. Not long after the re-start, a cannon throw ends up on the chest of Walters and the striker makes no mistake to double it up as he volleys home. Would of, should of, could of. Three points dropped and the same old monsters rearing their ugly heads.
Monsters? Ugly heads? That sentence, surprisingly, had nothing to do with Stoke City or their support. They're such easy — and mostly deserving — targets, but the truth of it is that the better team won today and that gets tougher to say as the word count, and losses, continue to pile up. The Potters are into 8th and we're back down to 10th; we haven't won away to Stoke in the league since 1984 and although we're sitting on the precipice of the right half of the table, we're hardly in an enviable position as our bi-polar Sultan of Sunshine personality clashes hard with the doom and gloom Pope of Mope.
We're quick to point off how close we are to the top six, or even the top four, but loathe to admit we don't have a clue how to get there.
"We were terrific at the weekend [against Fulham] but you have got to be able to put a run of games together  – if not you just keep taking two or three steps forward and making one or two back and then going again."

-Brendan Rodgers
No need to get too in depth here and describe how we were dismantled; the need to self harm after drinking heavily is strong enough as it is, but with Liverpool travelling to Loftus Road on Sunday, and the transfer window opening the same day the Reds travel to the Stadium of Light, supporters everywhere will be looking for a change of fortune — and just one more pint if you don't mind — as the calendar rolls over. You've already heard the rumors become a thinly veiled reality in regards to a new striker, but is that going to be the end all, be all answer to our continuing woes?
Momma said there'd be days like these, but she didn't tell us they'd continue to pile up like corpses in the corner. A new striker, even one who can point out "the net" on a map, wouldn't have changed this match. Though I'd normally be quick to chalk a loss like this one up to growing pains, it'd be a poor excuse for a poor side. Tactically we were off the mark, mentally we weren't prepared and the motivation to draw level, let alone pull back ahead, wasn't apparent in enough players. Brendan needs to start snapping necks — or stringing together results — before he finds himself in the gallows himself.
–steven.
All the best to you and yours this holiday season from the Paisley Gates crew.