Liverpool Up Coutinho Bid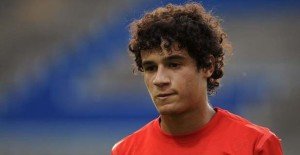 After having a low-ball bid in the region of £5mil kicked back by Inter Milan for promising youngster Philippe Coutinho, word has come across the News Desk that Liverpool have come back with an improved offer that's closer to the price the cash strapped Nerazzurri have been looking for.
Conflicting reports have Southampton going in hard with a bid of £10.2mil as the Saints look to hijack the move, but with Merseyside thought to be the preferred destination for the versatile midfielder, an upgraded bid of £7.6mil from Brendan Rodgers could be just enough to prise the Brazilian away from Milan. Moving to a side that's in the midst of a heated relegation scrap could make for a number of sleepless nights; though the Reds are hardly in an enviable position right now, a young squad that's on the up could prove to be tempting for the 20 year old as talks over his future continue.