No Fresh Meat, Only Oldham: FA Cup Fourth Round Preview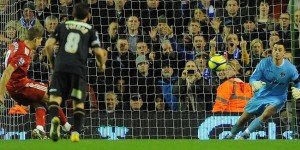 It's not the Super Bowl or the Australian Open. This isn't as big as the Stanley Cup or as exciting as placing your bet on March Madness. It'll hardly stir up the same emotion as the Ashes; but I've got no interest in any of those anyways — give me a FA Cup fourth round each and every time.
Kenny Dalglish lead us to Wembley last season where we narrowly missed out on lifting that shiny piece of history for an eighth time and if we want to give it another serious shot, the next stop is Boundry Park and a date with Paul Dickov's Oldham Athletic. We met the Latics in the third round last season and they were hardly a bother as we romped to a 5-1 victory, but with a number of high profile upsets playing themselves out over the last few weeks, you never quite know who's coming out on top — that is, if the match is even going to go on.
An appeal has gone out to the Latics fans to help clear snow from Boundry Park after a wave of snow left the ground buried in the fluffy white-stuff. If the pitch wasn't a big enough bother, Oldham sit 19th in the League One table and their struggles will only be compounded by their failure to take any more than one point from their last 8 league games. Despite their obvious problems, manager Paul Dickov thinks they can emulate Bradford and chalk up a scalp; but this isn't the League Cup and we're hardly Aston Villa — or Chelsea for that matter.
Let's be fair: anything but a win will be unacceptable. Brendan Rodgers has stated his intentions on more than one occasion; the FA Cup is a priority and a competition he believes we can win. You can take the inclusion of Luis Suarez in the travelling squad as a case in point. The Uruguayan has scored 20 goals this season thus far and even with the capture of Daniel Sturridge, who's scored three goals in three matches, and the return to fitness of Fabio Borini, the gaffer still isn't willing to leave our South American talisman out.
Although we don't know who's going to start up front, we know that Pepe Reina, Glen Johnson and Jose Enrique are all expected to miss out through injury. Aussie 'keeper Brad Jones has done a marvelous job of deputizing for the Spaniard and was on hand to keep a clean sheet during the 5-0 demolition of Norwich last weekend — though he was more a bystander than anything else — when he was called into action, he was more than equal to whatever the Canaries were able to muster. If he wants to stay in the frame, he's going to have to keep that same kind of focus against Oldham tomorrow.
According to Dickov, there's a shock in every round of the Cup and although they were able to pull off a coup last round when they knocked Nottingham Forest out, they'll be hoping there's some of that luck is still lingering around when the Reds come to visit. Three second half goals in seven minutes pummeled Forest into submission and a surprising double from Robbie Simpson was the icing on the cake for the Latics faithful.
When you've got a giant club like Liverpool coming up against a third-tier side that's fighting against relegation, you'd only expect one outcome. Even if Oldham lose, they win; the gate receipts alone will be a boon for the club, but that's not enough in the end. Even if they're destined to lose, there's hardly a doubt that the Latics will bring the fight to the visitors — it's almost a shame that they're only going to get clattered for their efforts.
-steven.
Give the writer of the headline, the too witty for his own good @mattiecamp, a follow on the Twitter.