Liverpool (2) Oldham (3): I Do Not Like It, Sam I Am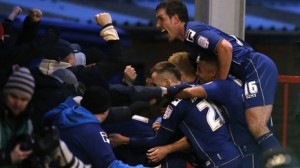 I suppose the Magic of the Cup only applies if you win; a shocking 3-2 reversal at Boundry Park sends Liverpool crashing out of the FA Cup at the hands of League One opposition Oldham Athletic.
Last season, Reds legend Jan Molby expressed concerns that his old side were becoming a "Cup team" after stuttering in the league, but reaching both the League Cup and FA Cup finals. It's safe to say the Danish midfielder can throw those concerns by the wayside; a Matt Smith double and towering header from on-loan Manchester City midfielder Reece Wabara sent Liverpool back to Merseyside with their heads hung low. Luis Suarez and Joe Allen both found the back of the net for Brendan Rodgers side, but even an surprisingly strong, attacking line-up couldn't stifle a resolute Oldham side that never stopped running.
We met Oldham last year in the third round of the FA Cup and it felt a bit like history repeating itself when Matt Smith put the Latics ahead early in the opening exchanges. A shot from Lee Croft was spurned well wide, but before leaving the pitch, it was picked up by Youssouf M'Changama who was given team to send in a cross. Though it hardly looked dangerous, Matt Smith could beat Sebastian Coates in the air to put the home side in front.
Coates has found chances few and far between this season as Brendan Rodgers has preferred a back-pairing of Martin Skrtel and Daniel Agger — and with the Uruguyan struggling with each and every step — it started to become obvious why as the meaty centerbacks were out muscled by their opponents. Robbie Simpson would get in a tussle with Brad Jones and Skrtel after following through with a kick to the shoulder of the Aussie 'keeper after he fumbled the ball; though it seemed only a minor incident at the time, his slippery fingers would come back to haunt the Reds.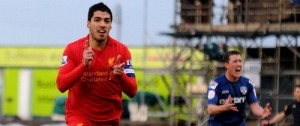 The inclusion of Luis Suarez seemed a bit odd considering the opposition and the belief of those who thought we could easily navigate this round without his assistance, but with the visitors a goal down already, it would be the Uruguayan that would restore parity.
A run from inside his own half ended with an attempted pass that would ricochet back to him; my calculator can't add how many goals the tricky striker has scored with inadvertent one-two's with an opposition defender, but with his 21st goal of the season in the bag, we only expected more to come. Shame they wouldn't be for us.
A free kick from Jordan Henderson on the edge of the area appeared to double the tally only a little while later, but the effort was ruled out for offside as it brushed the head of Suarez. It was a razor thin call and one that may have been wrong, but Sterling had a clear chance not long after to put his team in front after latching onto a sneaky back-heel from Fabio Borini. We looked to have the match firmly in our grasp until it all went sideways just before halftime.
Brad Jones' slippery fingers would come back to haunt him when a weak cross from Reece Wabara was spilled by the Aussie 'keeper. Although he did his best to recover, Lee Croft was first to it and with the ball squared to Matt Smith, the striker couldn't have missed if he wanted to. Carrying a lead into halftime is one thing; building on it just after the break is another and when Wabara headed Carl Winchester's deep cross home to make it 3-1, the home support was in raptures.
Joe Allen would pull one back with a heavily deflected Gerrard-esque volley to set up a frantic closing, but even with the Captain and Stewart Downing brought on in an attempt to turn the tide, what should have been a relatively easy match to navigate turned into a disaster. Jack Robinson and Allen both had chances to draw level and with the seconds ticking away a Gerrard thunderbolt ricocheted off the cross bar with the sickening feeling that this wouldn't be our day.
It's hard to grasp for positives after a defeat like that. The squad was more than equal — if not much better than — Oldham in every position on the pitch but it would be Paul Dickov that would be celebrating a victory tonight. Our inconsistencey continues to hamper us and with a trip to Arsenal looming midweek, an immediate response is needed; but after that showing you can only wonder which team is going to turn up.
-steven.
Get social with our media and find us on Facebook and Twitter. There's also a comments section below if you're feeling particularly saucy and want to have a go.