Ince Chase Becomes Royal Pain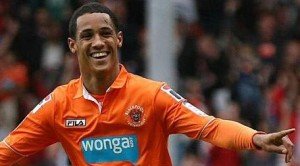 After wrapping up a £8mil deal for Inter Milan midfielder Philipe Coutinho on Saturday, the News Desk has been hanging around waiting for word that the club has finalized the transfer of Thomas Ince from Blackpool; might as well put the kettle on, it looks like we'll be waiting a touch longer.
The re-acquisition of our former youth player from Blackpool has hit a number of sticking points – reportedly over his fee and his playing time — since it was first revealed that Brendan Rodgers was looking to take the talented winger back to Anfield. The player wants guaranteed first time football and, not surprisingly, Tangerines chairman Karl Oyston wants more than the £6mil that Liverpool is reportedly interested in paying. With the winter transfer window closing quickly, Reading has now thrown their hat in the ring in an attempt to either sign the player, or just to complicate matters further. While we're pretty sure they're not just trying to mess with us, the struggling Royals may be willing to pay over the odds to boost their firepower ahead of a tricky second half to the season. You'd think that Ince being in the stands yesterday when the Reds ran out at Boundry Park would be a positive sign, but since we ended up crashing out of the FA Cup to League One side Oldham, he may be considering the interest from Brian McDermott a little more seriously.