Liverpool (0) West Brom (2): With All Due Respect, That Was Less Than Respectable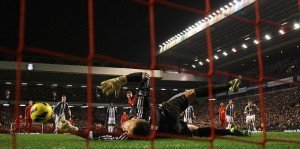 There's only so many times you can try to pass it off as one of those days. Gareth McAuley headed West Brom in front after Steven Gerrard saw his penalty saved by Ben Foster to set up a frantic finish at Anfield. Romelu Lukaku would wrap up the points deep into injury time and leave the Liverpool faithful scratching their heads.
West Brom have now done the double over the Reds after putting three past Brendan Rodgers side on the opening day of the campaign. After two decent draws against Arsenal and Manchester City, the Baggies coming to Anfield didn't quite evoke the kind of response we all expected. Remember those Garfield cartoons where he made some sort of joke about Monday and then pulled his blanket back over his head? I think I may do just that.
The less we talk about this, the better. There's a season long narrative running through here and it's beginning to arch as the season ticks on; lessons learned in our opening matches — ones that should have been heeded — are being quickly, and painfully, forgotten. We take over twenty shots and miss the better portion of them, while the visitors take four and put two into the back of the net. Daniel Sturridge misses a match and all of a sudden we're reverting back to the "at least we tried" dark ages.
Jonjo Shelvey, finally recalled into the side after the debacle at Oldham, strays offside and his goal is disallowed. Daniel Agger misses a free header when it should have been easier to score; Fabio Borini can't find the net after Ben Foster saved a Steven Gerrard dagger and the former England 'keeper did well to deny Jordan Henderson with a tricky back-heeled effort. If those opportunities were going to be enough to at least give you hope that the boys were trying to do the business on a freezing Monday night, Luis Suarez winning a soft penalty, only to have Foster snatch the go ahead away from Gerrard, might change your mind. Maybe it wasn't going to be enough.
West Brom were content to defend deep from the get go and absorb the pressure the hosts laid down; there was little adventure in Steve Clarke's side and the visitors didn't manage a shot on net until the second half, but in typical nothing is going right fashion, they made each and every one of them count. The penalty save from Foster — who was excellent on the night — galvanized the visitors and it wouldn't be long before Anfield was stunned to silence. Rodgers would look to new signing Philippe Coutinho to unlock a packed defense, but it would be Gareth McAuley who would make the difference after outwitting Daniel Agger to head home a Chris Brunt corner. All of a sudden the importance of possession, pressure and dominance evaporated. We were chasing the game — at home — to the Baggies.
Want to add insult to injury? I didn't, but Romelu Lukaku would and when the big man went on the counter attack, streaking past a once again confused Daniel Agger to smash past Pepe Reina, salt wasn't the only thing being rubbed in the wound. We've got a trip to Russia coming up this Thursday; maybe it would be better to forget this one. What's another misstep in a season filled with disappointing performances?
–steven.
Am I off the mark? Is it all Doom and Gloom or do you have another take on it? Let us know on Twitter, Facebook, or in the Comments section below; or, you can call me an idiot on your favorite Social Media site. It's nice to know you're thinking of me…