'A view from the Kop'- Liverpool 0-2 WBA Patience required……….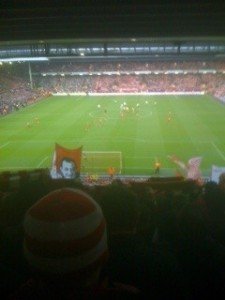 After a disappointing defeat last night in a 'smash and grab' style by West Bromich Albion, the 'knives are out' this morning with regard to Brendan Rodgers and his tenure as Liverpool Manager. Suddenly he 'isnt up to the job', 'we are not progressing', 'he hasnt got a clue' and such like is being 'spouted' on radio phone-ins and twitter rants by persons not happy with what appears to be the final nail in our 'fantasy quest' for a top 4 finish.
Reflection and reality needed I believe. Yes we dropped 3 points at home, yes we are ninth in the league only 3 points above Stoke City, yes it isnt good enough for Liverpool Football Club- but hang string and quarter Brendan Rodgers solely for it- Im not having it.
Ben foster had an inspired game for WBA and without him in goal we would have been 'home and dry' with 3 points in the bag no problem at all. The starting 11 was questionable for sure and maybe doesn't say a lot for Fabio Borini that with Daniel Sturridge injured, BR opted for Jonjo Shelvey in a role which has become apparent just doesnt suit him, or our 'style'. Indeed when Fabio Borini came on, one shot aside, he was 'ineffective' at best. Yes, Daniel Agger had a poor final ten minutes (which has has openly admitted to this am) and maybe Pepe could have done better (as we've said on numerous occasions this season already). Glen Johnson had (in my opinion) his worst game this season by a long way, with Jose enrique not far behind. But, we could/should have won this game with ease.
The solution is patience and a reality check for all. We didnt really believe that all of our problems would be solved in a couple of transfer windows did we? (It could be said that Borini and Allen @ 26 million pounds have simply added to our problems, but see Lucas, Henderson and others on that one) However, if they aren't going to cut it, they'll be gone- simple as that.
What I do know is that to build a culture with longeivity takes time. It simply does not happen in 6 months. Look at Manchester City this season. Yes, they won the title last year, but a 'winning culture' is not yet present within the club- as their league position and European campaign highlights. Sadly 'the other lot' in Manchester have that culture. They win even when they play poorly- and thats the difference. We play brilliantly, and draw.
I'm as frustrated as any LFC fan right now. Its hard being an LFC fan- in fact it has been really since Rafa's last season in charge. This hasn't just happened overnight, and it wont simply be fixed overnight either. I dont buy into swapping managers again, and all of the back room staff, cos swap them and any culture that may be developing goes with them- and its right back to the start all over.
What we need is some perspective, some reality, and some patience. Brendan Rodgers did say 'they'll be matches like this'. Lets not forget the 30 minutes away at Manchester United, the 65 minutes away at Arsenal, and the 80 minutes away at Manchester City. With Daniel Sturridge, and for those periods of the game, we were brilliant. Throw in that winning culture which BR is trying to instill, and we walk away with a lot more points than the measly 2 which we did get.
I left the ground with my son last night straight after WBA's second goal. I was cold, my wallet was empty, and I was fed up. Then I had a word with myself and came to this conclusion- I would rather watch Liverpool Football Club lose, than any other team win- and thats what its about for me.
Stick with it reds- there'll be plenty more 'bumpy' times ahead before we return to where we all feel we should be.
 'its all part of the dance'      YNWA 🙂