Liverpool (3) Zenit St Petersburg (1): Bitter and Then Some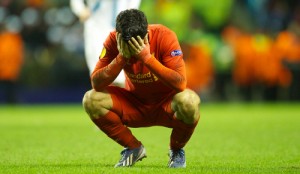 It's only a matter of time before we have to face the horrible truth, so I'll just come out and say it: that could of been our last European game for awhile. Maybe not playing in the Europa League next season doesn't sound that bad to you, but after tonight, I'm a bit bitter.
After their shift the boys put in today, you should be too. An early goal from Hulk smashed the pre-match optimism and left Brendan Rodgers men stranded, needing four unanswered goals to advance to the Round of 16. Zenit boss Luciano Spalletti was already booking their tickets to Basel before Luis Suarez's free kick beat a porous wall to restore some belief. Joe Allen would breath life back into the tie after tapping home his own rebound just before the break and Suarez would score a spectacular second free kick to set up a frantic finish — one in which the Away Goals rule would send us crashing out.
Maybe four goals was a bit too much to ask. When Jamie Carragher, playing what will be his last European match, sent in that lazy back pass, you got the feeling it was over. Hulk wasn't going to miss that one and with the Away Goals rule set up to stifle dramatic comebacks like these, there wasn't going to be any other outcome, right?
If mistakes and complacency were the main culprits in the first leg, it was only a lack of time that turned our lights our in the second. Even after falling behind, we were unrelenting and the attacks came in waves. Though we controlled the ball for the majority of the match, it was what we were doing with it that made the difference and the flowing move that lead to Joe Allen scoring the second was exactly the type of football Rodgers wants us to play and the Kop loves.
After our Uruguayan striker — who put in another Man of the Match performance — melted minds with a sublime, effortlessly curling monster of a free kick and put us within one goal of progression, Rodgers threw caution to the wind. With a scoreline like that, it's hard to fault the boss for going all out, but when Jonjo Shelvey and Oussama Assaidi replaced the impressive Jordan Henderson and Joe Allen, somehow, the merciless pressure we relied on to pen the visitors back, went up in smoke.
That's not to say that we didn't have chances; Luis Suarez almost made it a hat-trick of set pieces with another stunning strike, Vyacheslav Malafeev would somehow keep out a Steven Gerrard effort, Jonjo Shelvey could only find the side netting and Daniel Agger missed his chance to play the hero when he headed wide from a corner. It's been a long time, but as time ticked down, you didn't immediately get that dreadful feeling of despair. There was a real belief that the go ahead was on the end of someones boot and the Kop echoed that sentiment — as they had all night — even as the ref blew the whistle for the final time.
My narrative may not be the same as yours and at the end of the season, there's a possibility it may not mesh with the one Fenway Sports Group compiles. Regardless, that was a performance that any fan should be proud of and even though we're left to pay the Piper for our first leg mistakes, this is a young side with a manager that's still wet behind in the ears and both can improve in leaps and bounds. Those leaps may be shorter then you're happy with and the bounds could come with the occasional rebound, but I believe what I say: I'd rather crash out of any competition with a bang rather than a whimper and this side gave it their all. That's the kind of heart we need and it will serve us well in the near future.
–steven.
I'm having a hard time complaining, but are you? Let me know what's up in the comments section, or you can give us a shout on Facebook or Twitter.