Liverpool (4) Wigan (0): Suarez Hat-Trick Demolishes Latics
If we keep this up, we'll all be disappointed when we win by only a goal. Last time out, we put five unanswered goals past Swansea City, but that was in front of a raucous Anfield crowd. Away to the DW Stadium, well, we could only manage to bag four.
Some trickery from Philippe Coutinho lead to a rare header from Stewart Downing to open the scoring in only the second minute of play before Luis Suarez, climbing back into the pole position for the Premier League Golden Boot, ruined Ali Al-Habsi's one hundredth appearance for Wigan by putting three past the Omani 'keeper. Before the match, the Uruguayan was 40/1 to be named Player of the Season, but after a performance like that, those odds are likely to improve.
Though you'll hear scant complaints from anyone in Red, it's a bit surprising the score line ended up quite as emphatic as it did. Wigan missed an early opportunity to go ahead as they drove to the net in the opening minute of play and had they converted right there, things could have played out vastly different; regardless, it was actually Pepe Reina — showing the kind of distribution that earned him so many plaudits during the Benitez era — that picked out Philippe Coutinho drifting out wide on the left to open the scoring.
The absence of Daniel Sturridge from the starting eleven was enough to cause a bit of concern among the Liverpool faithful and scooped a touch of added pressure on Coutinho's plate. The Brazilian was making only his second start since his move from Inter Milan in January and with the ball at his feet, he'd bamboozle Emmerson Boyce and float a picture perfect ball across the face of goal for Stewart Downing, who'd drifted centrally during the buildup, to head home.
Liverpool had abated their early nerves and the Latics were given something to chase yet neither side could really find a foothold in the match. Even after Coutinho found Suarez in the eighteenth minute with a perfectly angled pass through traffic for the Uruguayan to slot past Al-Habsi, it didn't really look like we were that much better than the hosts. When it was all said and done, Wigan out-shot us, created more chances, had more corners and nearly doubled us up in interceptions — yet they ended up getting four goals put past them and didn't even find a consolation. What in the world was happening out there?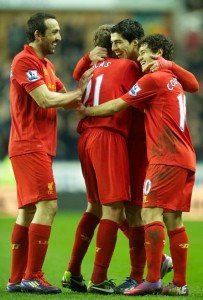 We saw the Suarez score two stunning free kicks against Zenit St. Petersburg last week and before the clock could even think about ticking to half time, the Uruguayan would find score another when his curling effort from just outside the box took a deflection off the head of Shaun Maloney to sneak into the bottom corner.
Not long after the re-start, our Luis would lay claim to the match ball by doing what he does best: running clear and slotting home. Glen Johnson would once again show why he's so highly rated going forward when he held off three defenders to toe poke through to a waiting Suarez. With the striker off and the last defender left in his wake, you couldn't imagine any other outcome; suffice it to say that he didn't disappoint as the ceremonial nutmeg was completed with a finish through the legs of Al-Habsi.
If you didn't have an opportunity to watch the match, you'd be calling this one a rout; though technically you wouldn't be wrong, you'd be remiss to brush off Roberto Martinez's side so easily. With all due respect to the Latics, we hardly deserved the score line and I'm absolutely chuffed for that. Carrying on the trend from last year, we've had such a hard time turning out results — ones that we deserved to win — that having everything go right for once is encouraging.
Coutinho was able to provide that extra attacking threat that we've been lacking the past two seasons and when Sturridge is back we'll have another to compliment the immensity of Suarez, but almost as important, Pepe Reina put in what may be his performance of the season. Emmerson Boyce and Franco Di Santo were both denied what looked to clear cut goals by the Spanish stopper and with the Latics sending in eleven shots on net, he played an integral role in keeping the clean sheet.
So, what have we learned today? When the 'keeper is on song and the striker hits the net, we're going to win? We only had eight shots, but seven of them hit the net and four of them went in; it's hard to complain about that. Although the Latics beat us on paper, we came away with the points and though that may be enough to help us keep pace, it won't do us much good in the race for some form of European football next season.
With only ten matches left the play, it's going to get really real in the next few weeks when we meet Tottenham, Chelsea and Everton. We've scored nine goals in our last two league matches, but I'd spread those around if I could; routs, as fun as they are, don't impress me. Pulling in points when it truly makes a difference? That's what's going to get my panties to drop.
–steven.
We got that Facebook thing. We're on the Twitter. You can say something in the Comments or you can spread the love on your social media site of choice. So many options, so little time!