Run for the Continent: Tottenham Preview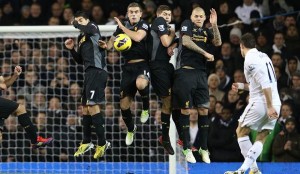 Around this point in the season, you have to get down to brass tacks; since we've hit the point, I'm comfortable saying that I'd cash in each and every superfluous goal we've scored over the last three matches just to see the Reds grind out a extra boring one-nil win against Spurs tomorrow.
If we're going to have any chance of playing European football next season — Europa League or dare we dream otherwise — then taking full points at Anfield is priority numero-uno. It doesn't matter if the ball ricochets wildly around the box in the 92nd minute and finds its way past Hugo Lloris via the backside of a Tottenham defender caught unaware; I'd take it and I'd celebrate it like it was a 40 yard swerving screamer that capped off another Liverpool master-class. Think I'm having a laugh? Then you're dead wrong.
Beating both Wigan and the Swans by such emphatic score lines is good for moral — for both team and fans alike — but taking home full points against a team like Spurs, who's playing unlike the Spurs of the past, would be a far larger coup. They aren't the bumbling Juande Ramos managed nightmare anymore; Thursday night they took Inter Milan for three goals and sent them back to Italy with their tail tucked firmly between their legs. They're currently holding down third place in the table with a pair of points held just out of reach of Roman Abromovich's Chelsea side.
Anfield hasn't been an easy place for Spurs to visit and you have to stretch back to May 2011 to find the last time they took full points on Merseyside. Rafael van der Vaart scored from 20 yards out and Luka Modric slotted home from the spot to give the Tottenham faithful something to celebrate on the trip back to London; Spurs have won four of their last five meetings with the Reds and in more recent memory, Aaron Lennon and Gareth Bale punished us back in November to send the us back up North with nothing to show for our efforts. Fate, it would seem, is favoring the visitors.
Although they have the return leg with the Nerazzurri coming up next Thursday, the league has been the almighty priority for Tottenham this season and securing a return to the Champions League — or finishing anywhere above Chelsea — has been the blueprint laid out by André Villas-Boas from day one; that, and keeping Player of the Year candidate Gareth Bale happy in North London. The Welshman glanced a header past Inter 'keeper Samir Handanovi? to open the scoring on Thursday night, but blighted his otherwise outstanding performance by picking up another yellow card for simulation — his fourth booking this season for phantom tumbles. This will rule him out of the trip to the San Siro and very much into the ride to Anfield.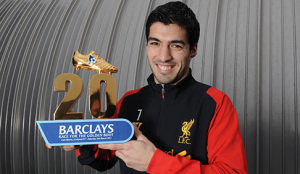 Even after Villas-Boas confirmed that he would have asked Bale to pick up a yellow to "keep him clean" for the next round, the media denigration has been kept to a bare minimum; bar a few scattered sources and in a not overly subtle way, Brendan Rodgers. The boss was quick to talk about Luis Suarez as a changed man and how his diving antics were only a seen as a problem because he was foreign — if he was British, it would be seen as "funny" but since he's not, it's just dirty cheating. While we were all quite aware of this double standard before, both Liverpool and Tottenham face a similar predicament when it comes to their Player of the Year candidates that doesn't involve keeping them on their feet; despite Spurs relative success and Liverpool's hard earned progress, there are rumors swirling of bigger clubs calling in the summer and the lure of greener grass — imagined or otherwise — could prove tempting.
Liverpool has been combating any want-away syndrome with the addition of new attacking players to ease the burden on Suarez and both Daniel Sturridge — who will return to the starting line-up after missing the trip to Wigan — and Philippe Coutinho have been winter transfer window success stories. So far, the Reds have scored the most Premier League goals in 2013 with an impressive tally of 22 and in their last six victories have won by at least 3 goals; when you contrast that to their early season failures to find the net, you'd have to take note that we're moving in the right direction. Even Pepe Reina, who came in for a bundle of criticism earlier this year, is moving within shouting distance of his own plaudits; with nine clean sheets this season, the Spaniard is very much in the race for the coveted Golden Gloves and recording a clean sheet against Spurs tomorrow would put him on par with second placed Petr Cech.
While this is being billed as the Suarez vs. Bale super showdown, it's going to be much more than that. Either of those two can, and most likely will, make a difference in the match, but there's so much more to it than just the two players with the big names on their backs and if neither does anything of note, that's fine by me. At this point in the season, I'm more interested in finding our way into Europe than in individual performances; an attacking master-class or a deflected goal in injury time — at the end of the day, who really cares? Three points is all that matters.
–steven.
Get social with our media and find us on Facebook and Twitter. There's also a comments section; go on and have a go.