Can't You Hear Me Knocking?: Southampton Preview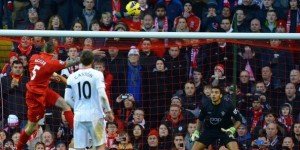 On the heels of a come from behind win against Tottenham Hotspur on Sunday, Liverpool make their first trip to Saint Mary's since 2005 to face a Southhampton side that are keeping a firm eye over their shoulder on the relegation battle.
A header from Daniel Agger in the reverse fixture saw Liverpool run out 1-0 winners in December to keep the Saints firmly rooted in the bottom three; although Mauricio Pochettino's side have pulled themselves into sixteenth place, they're sitting only 4 points ahead of eighteenth place Wigan who hold a game in hand. Southampton have taken only seven points from their last eight matches and with the Reds in a good run of form, Brendan Rodgers' men could very well turn that into nine matches come Saturday evening as they begin to knock on the door of the European places.
It's more hard work than good fortune that finds Liverpool in the midst of their first three-match winning run in the league since May 2011; early season stutters and a tendency to lead towards the inconsistent put a black mark on the early days of Brendan Rodgers reign as his new charges adapted to a new style of play. Though there's still a long road ahead, the tactical switch – as well as the timely addition of some new players — has begun to reap its reward and if you factor in their 3-1 win against Zenit St Petersburg in the Europa League, the Reds have scored 15 goals in their last four games.
One of those goals was a Steven Gerrard penalty in the closing stages of our meeting with Tottenham last Sunday which Spurs stopper Hugo Lloris couldn't quite keep out; unlike Saints 'keeper Artur Boruc who saved an injury time penalty in their 0-0 draw against Norwich last weekend to secure Southampton's first clean sheet in six matches. Penalties always bring a rush of blood to the head, but that wasn't the only drama on display.
Mauricio Pochettino's side are currently facing an FA charge of failing to control their players after referee Mark Clattenburg called what looked to be a clear cut penalty when Saints defender Luke Shaw tripped Grant Holt well into injury time. Clattenburg was surrounded by players incensed by his decision to award the late penalty, but with Boruc at his best, the protests were for naught – though, in the end, they'll be happy that they came away with anything at all.
When you're battling relegation, one point is better than none and if the Saints can snatch something this weekend, it would be a huge boon to their cause. Southampton has been anything but solid at the back and if they're going to put up a challenge it's going to have to be upfront. Gaston Ramirez has raised some eyebrows with some solid play since his £12m move from Serie A side Bologna in the summer and St. Mary's is home to the Premier Leagues highest scoring Englishman thus far in Rickie Lambert, but neither can compare to the power that is Luis Suarez.
Lambert has found the net twelve times this season – Suarez is one shy of thirty in all competitions. The Uruguayan goal machine opened the scoring against Tottenham last weekend when he found himself on the end of a well worked move with Philippe Coutinho and Jose Enrique – a little something every fan of the game can appreciate. While stopping – or in the very least containing – our Luis will be top priority for the Saints backline, they're going to have to do a bit more than that if they want to nip some points. Pepe Reina is expected to return after missing out against Tottenham last week and with no fresh injury concerns, Brendan Rodgers will be able to field his strongest side to hopefully carry their momentum through the International Break.
Although the Reds have won only once in their last seven trips to Saint Mary's, the harsh reality of brash confidence makes it hard to see any other outcome. Earlier this week Steven Gerrard called for a "perfect end" to the season as his side look to sneak into a Champions League spot through the backdoor and even though their fate is truly out of their hands, not taking full points against a struggling Southampton will do them no favors. We may not be in complete control, but we can in the very least have a say.
–steven.
Get social with our media and find us on Facebook and Twitter. There's also a comments section; go on and have a go.