Liverpool (1) Southampton (3): It's a Rocky Road to Europe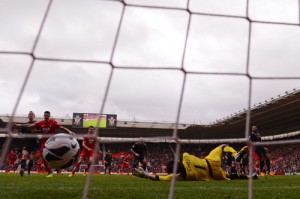 I suppose the most frustrating part about a sure thing is that nothing is assured until the final whistle blows. After downing Tottenham last weekend, every match from there on became a must win as the Reds set their sights on European football; a visit to struggling Southampton also gained the lofty air of a should win, but Mauricio Pochettino's side ensured that Saint Mary's remains a hard place for Liverpool to go.
Morgan Schneiderlin side-footed home from close range to open the scoring in only the 6th minute and boyhood Liverpool fan Rickie Lambert scored his thirteenth goal of the campaign with a deflected free kick to double it up. Philippe Coutinho would pull one back for the Reds on the stroke of halftime, but Jay Rodriguez would produce a run any player in the world would be glad to call their own and wrap up the points for Southampton on a slick St. Mary's pitch.
And, so, our winning run of four matches in all competitions comes to spectacular, stuttering end. Earlier in the week Steven Gerrard called for a "perfect" end to the season as the Reds looked to sneak into the backdoor of the Champions League and though our fate was out of our hands, losing a match of this caliber will do us no favors when the points are tallied up in May and the European slots are handed out.
I won't go into great detail; our glass jaw has been our inconsistency and all but knocked within a half hour. The early opener from Morgan Schneiderlin came when Steven Gerrard failed to track him into the box and the French midfielder as all alone to side-foot home past Brad Jones. The second was a body blow from Rickie Lambert when Daniel Sturridge decided that jumping and turning — creating a gap in the wall — was the best course of action. Jones, who was wrong footed when the ball took a deflection off the striker, begs to differ.
Coutinho pulling one back just before halftime gave Brendan Rodgers side a life line, and with Lucas on the pitch in place of the wholly ineffective Joe Allen, it looked like the Reds could swing this match back their way; then, they didn't.
Southampton had dropped more points from leading positions this season than any other side in the top flight, but Mauricio Pochettino wasn't about to be denied only his second victory as boss of the Saints. Jay Rodriguez — who had been dangerous all day — took a casual stroll through what seemed to be our entire side before following up on his own rebound to put the match well out of reach. There would be no comeback on the South coast and now we're left to consider what might have been.
That perfect end to the season can still happen, but with a whole three points less. Jamie Carragher picked up a calf injury that ruled him out and with Martin Skrtel in his place, the defense lacked the rigid organization that the Scouse loudmouth brings to the table. Brad Jones — who did an immense job — made his second start in as many games for the still laid up Pepe Reina and things were that much quieter with Joe Allen taking the place of Lucas — who was also apparently carrying a knock — as the disorganization reached a boiling point.
Couple that with our terrible passing — we could complete only 74% of them — and our impotence in the final third — 54% of our passes completed and only 6 shots on target — then you've got a headache and a half. Give the hosts 58% of the possession and the team that makes you chase the ball is spending the whole match trying to win it back instead of building it forward.
Even though there were mistakes made, we weren't entirely the architects of our undoing and the Saints deserve credit where it's due; they were compact, organized and full of heart. Gaston Ramirez was everywhere and involved in everything, Artur Boruc made sure things remained tidy at the back, Jay Rodriguez and Rickie Lambert terrorized our backline, Nathaniel Clyne stuck to Suarez like crazy glue and Morgan Schneiderlin was there to not only clean up the dirt, but find the net for the opener. Still, questions remain.
Was it a bad day at the office? Did Rodgers get it wrong from the get go? Can the two man midfield work against weaker opposition? Why was an injured Joe Allen picked over a healthy Jordan Henderson? Do you actually find the Big Bang Theory funny? Will the International Break give us time to re-group as the season winds down or will it just interrupt our flow further? Can I quit writing this and enjoy my St. Patrick's Day?
Yes. Yes, I can.
–steven.
We got that Facebook thing. We're on the Twitter. You can say something in the Comments or you can spread the love on your social media site of choice. So many options, so little time!