Stemming the Tide: Aston Villa Preview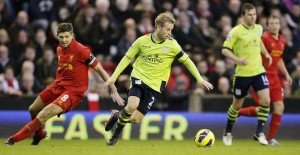 We're back to having something to prove; there were concerns that a two week break would interrupt the good run of form that Brendan Rodgers men found themselves in. Winning three matches on the trot for the first time in forever lead to whispers that his Liverpool side had finally found their stride.
Those quiet words of praise soon abated with a surprise 3-1 reversal at Saint Mary's and a stark reminder that our consistent inconsistency is the only benchmark we're truly able to measure this season with. Still, it's not quite time to give up hope — with eight matches left and a meeting with a less than deadly Aston Villa tomorrow, the ways and means to sneak into a European place still exist. Don't believe that? Maybe you've forgotten why you give a damn in the first place.
The numbers are getting more and more dire; as of writing, the Reds sit five points off of fifth placed Arsenal having played a game more. We're nine points back from fourth placed Spurs who have been in a bit of a slump since we turned them over at Anfield. The numbers have ensured that qualification is out of our hands, but with all routes to silverware closed off, a spot in Europe is the only thing left to fight for and with the Reds sitting fifteen points clear of our hosts tomorrow, those numbers are in the very least on our side.
Aston Villa have taken full points only once in our last fourteen meetings at Villa Park — still, you have to look all the way back to December 2011 for the last time we walked away from the Midlands with all three points. That might equate us sharing the spoils on a disproportional scale a, but history hasn't meant a whole lot this season. With Villa on the edge of relegation and Liverpool struggling to sneak into a European spot, these two powerhouses of old haven't quite lived up to the lofty heights they once reached.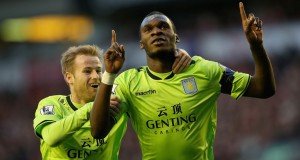 It wasn't that long ago that the Reds went eight years unbeaten home and away against the Villains; memories of that proud record were quickly forgotten when Paul Lambert's side put us to the sword at Anfield in December with goals from Christian Benteke and Andreas Weimann giving Villa hope that relegation wasn't a foregone conclusion.
The Midlands club has since won three of their last five league matches, their best run of form this season, though they sit only three points ahead of Wigan — who hold a match in hand — in the fight for Premiership survival. Darren Bent, Fabian Delph and Karim El Ahmadi are all back to bolster Villa's case for survival and put in a helping hand as Paul Lambert looks to do the double over the visitors for the first time since 1993.
If there ever was an example of our profligacy up front sabotaging us, the return fixture was it: despite holding over seventy percent of the possession, our seven corners and twenty-nine shots returned only one goal while Villa needed a staggering eighteen shots less to score three. That was last year though and since he calendar rolled, the Reds have scored the most goals in the Premier League with twenty-six shots finding the back of the net. The addition of Daniel Sturridge and Philippe Coutinho during the winter transfer window breathed new life into a once stagnated attack and the return of Jamie Carragher has given the Reds the organization at the back that they've been lacking.
The defensive stalwart is expected to be recalled into the side tomorrow along with Pepe Reina after both overcame knocks they picked up before the International Break. While those two will be well rested, there are always concerns that World Cup qualifiers will lead to hangovers as jet lag and fatigue take their toll. Luis Suarez stirred up some controversy during Uruguay's loss to Chile in South America, Steven Gerrard played a full 90 minutes against Montenegro on Tuesday, Daniel Agger scored from the spot in Denmark's draw with Bulgaria — and that's only the tip of the iceberg.
Tired legs, tired minds, tired souls; it all needs to be put aside by the time kick-off rolls around at Villa Park. With the season winding down and the window to get ourselves into a European spot closing, Rodgers spoke of the players need to have pride in the shirt and the city; they have to do it for the fans. Three points tomorrow won't come close to guaranteeing anything, though anything besides that just shuts the window that much more. At this late stage, maybe cynicism is the safe bet, but, when left with only that or belief, I prefer to throw my lot in with the boys — I'd rather have something to look forward to.
–steven.
Get social with our media and find us on Facebook and Twitter. There's also a comments section; go on and have a go.