Tiago Ilori vs Brazil U-20: Video and Unsubstantiated Speculation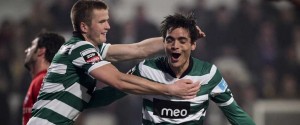 If you're prone to believing everything the media tells you, you've been waiting outside Melwood with a "Welcome to LFC" sign for Portuguese defender Tiago Ilori for a little bit too long. Your family misses you buddy; it's time to go home.
As soon as you get the kettle on, you just know that Liverpool first team doctor Zaf Iqbal is going to show up with the Sporting Clube de Portugal B youngster in tow and all that standing around — through the wind and the rain — will be for not. The immediate focus might be on the imminent arrival of Iago Aspas and the latest in a long line of Luis Suarez related drama, but the talented central defender remains a very real target for a manger that is focused on building a young squad and he's also a player who could very well be arriving at Anfield any day now.
Video by the clevery named Rayted Are
There's all kinds of speculation flying around Anfield these days with Brendan Rodgers quick to point out that mistakes in the transfer window "cannot be made" if the Reds are going to stage an assault on the Champions League places. "In order to breed the consistency needed to give us success, we need to bring in winners – those with the winning mentality" said the Ulsterman in a recent chat with the press and it's hard to argue with that logic. Whether defender Tiago Ilori — and his reported £3.8mil price tag — will be included in that winning group remains to be seen.
The 20 year old just put in a good showing at the Toulon tournament where the Portuguese Under-20 team finished second in their group behind eventual tournament winners Brazil. When those two sides met, the Samba Boys ran out a 2-0 victory, but as you can see from the video above, Ilori put in a more than respectable performance and helped keep the rampant Brazilians at bay.
For lack of a better comparison, Ilori seems reminiscent of an unpolished Daniel Agger; comfortable with the ball at his feet, quick to cut out a pass and not afraid to put in a crunching tackle. It's those kinds of qualities, along with a willingness to learn and adapt to a new system, that make Ilori such a promising prospect. No player – especially not a youth player who's never played in England – is a sure thing, but the Portuguese youngster looks like the real deal and a player that we should take a punt on.
With the signing of Kolo Toure from Manchester City already wrapped up, Brendan Rodgers will be looking to bring in more defensive re-enforcements as the futures of Liverpool pair Martin Skrtel and Sebastián Coates remain up in the air. Schalke 04 defender Kyriakos Papadopoulos remains hotly tipped as Rodgers number one defensive target this summer, but youngster Ilori is looking like one for the future with the defender possessing the kind of skill set that the Reds boss is keeping an eye out for. Now, all we have to do is sign him up.
–steven.
Many thanks to Rayted Are for putting together this compilation and making this post….well….not terrible.