So it Begins: Liverpool Prepare for Life Without Suarez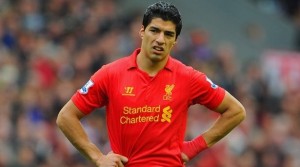 If you were hoping for a quick resolution to the latest Luis Suarez debacle, you certainly aren't alone; when the Uruguayan began flirting with Real Madrid at the end of May, it was hard to picture him being here too much longer. Many Liverpool supporters began to – begrudgingly, might I add – prepare for his departure, lest he wound us like a certain Spanish striker did in the not so distant past. 
When the transfer window officially opened on July the 1st, a formal offer for the services of Suarez from someone – anyone – was expected, yet we were left with the same media whispers about Real Madrid, Bayern Munich, and a far-fetched link to former Madrid boss Jose Mourinho's re-imagined Chelsea side before Arsenal entered the picture. Betting has been suspended by a number of bookmakers on the controversial striker making a move to North London, though no official word has come from either side about the supposed transfer.
With the Confederations Cup over and Suarez granted a three-week holiday before he's to report to pre-season training, it's rumored that the club have given him until the end of the month to sort out his future. When the first of August rolls around, Suarez will apparently be a Liverpool player until at least January. In the meantime, the Reds continue to plan for life without their mercurial Uruguayan.
None of us know whether this ultimatum has actually been passed down by the Reds hierarchy, but, if it hasn't', then it's time for the kid gloves to be put back in a drawer somewhere. Clubs fighting players through the media is the lowest common denominator and after the Uruguayan decided that holding press conferences on an almost daily basis to pontificate on his dislike of the English press and his dreams of a utopian Madrid would be the best way to engineer a move to the Spanish capital, Liverpool swiftly responded in kind with a hands off notice. Suarez, according to the party line anyways, is not actually for sale.
It almost seems that way as well; it's been a bit quiet on the Luis Suarez front in the last little while and as the opening of the transfer window came and went, new Real Madrid boss Carlo Ancelotti made attacking midfielder Isco his first signing with a cool £23mil now swelling the coffers of Malaga. Although Los Blanco's are suspected to retain more than a keen interest in the services of Suarez, who scored 30 goals for Liverpool last season, it seems that a hasty flight to Spain won't be as easy as batting eyelashes in their direction.
"They've been busy in the market and it appears they're almost readying themselves for life without Suarez."

"The last thing you want is an unhappy player and Liverpool know that."

–Jan Molby
It's safe to say that Brendan Rodgers isn't keen on taking a breather; the Liverpool boss made a point to say that his side would be completing their transfer business as early in the window as possible and with four signings now under his belt, the man speaks the truth. Of particular interest is the double swoop for Spanish attackers Iago Aspas from Celta Vigo and Sevilla youngster Luis Alberto that have already been wrapped up and the clubs dogged interest in prolific Shakhtar Donetsk attacking midfielder Henrikh Mkhitaryan; goals – whether building on those existing or replacing ones that could go missing – it would seem is a major priority on Merseyside.
With Fabio Borini and prolific former Chelsea man Daniel Sturridge already on the payroll, adding two new strikers – one ready for primetime and the other supposedly on the cusp of first team action — seems a touch odd unless someone is going to be making way. Although the idea is to offer strength in squad depth, the departure of Suarez would leave a gaping hole in Liverpool's front line that it seems they're already attempting to fill whether he stays or not.
Every summer is a turbulent one in the Spanish capital and there may need to be some departures before there are more arrivals – though not for a lack of funds. Carlo Ancelotti is expected to let Gonzalo Higuain join Arsenal within the next day or two leaving Karim Benzema and Cristiano Ronaldo, who also faces an uncertain future, as their only recognized strikers. Real Madrid will certainly add another striker – a marquee one at that – during this transfer window, but whether it will be Suarez remains to be seen. In the meantime, Chelsea has reportedly begun preparing a bid to bring the Uruguayan to Stamford Bridge.
"I am tired of it. My daughter and my wife have suffered. I'm not prepared to continue suffering at the hands of the English journalists."

–Luis Suarez
So goes the line the Uruguayan believes is just cause to leave Liverpool. His various missteps don't need to be rehashed right here, right now; by this point, you're already well versed in the madness that comes part and parcel to the genius of the man they call El Pistolero. It would be hard to fault Suarez, an undeniably world-class player, for following his ambition and in the event he just admits that he wants to challenge for trophies at the highest level now, and not when Brendan Rodgers completes his transformation of the Reds, it's hard to picture anything but begrudging acceptance from the Liverpool faithful. Although many Liverpool supporters – me included – believe that the vilification of Suarez has been over the top, switching from one football mad country to another will do little to stem the tide of bile some sections of the press thrive on; and in the event a move was made to another side in England, with both Arsenal and Chelsea now being linked, it would be nothing short of a slap to the face and a confirmation that his posturing was nothing but lies.
Although any interest the Blues may have — imagined or otherwise — in Suarez seems comical at this early stage, we've been here before. Bids for both Fernando Torres and Raul Meireles were quickly accepted and the players moved on in the blink of an eye. Doubting the insane lengths that Chelsea owner Roman Abramovich will take to improve his side is done at one's own peril; although a number of his transfer "coups" have a been nothing short of disastrous, it's his money to spend and Liverpool's resolve to keep their want away striker may dissolve should a bid of sufficient weight come in — no matter who it's from.
If Suarez is sold, he will command a princely sum and how Liverpool would choose to spend it will end up defining this saga. The sale of Fernando Torres to Chelsea resulted in the purchase of Andy Carroll from Newcastle and with the Geordie now on the books at West Ham United, few will choose to remember that particular expenditure fondly. Whether the money will be splashed on another big name, distributed throughout the squad in number of more pragmatic purchases or banked for a rainy day is a discussion better suited for another time; for now anyways, we're left to wait. Thankfully, this time, we have what appears to be a rather sound plan in place – one that will stay the course with or without Luis in the squad.
–steven.
Enjoyed this article? Thought it was a load of crap? Got something to say? We're on Facebook, Twittter and there's a comments section below to have a go in. We're listening.