Liverpool Reportedly Reject Arsenal Bid for Suarez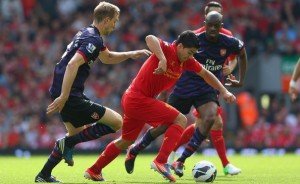 It was shaping up to be a lazy Sunday around the News Desk until the fax machine started bleep-blooping out reports that Liverpool have rejected a formal bid from fellow Premier League miscreants Arsenal for the services of want-away striker Luis Suarez.
The Uruguayan has pulled no punches in letting the world know that his new favorite color is the white of Real Madrid, but with no bid from Los Blancos forthcoming, Gunners boss Arsene Wenger apparently authorized a move for Mr. Malcontent to test the resolve of the Merseyside club. The official party line remains that Suarez isn't for sale and this particular offer — believed to be in the region of £30mil — was quickly rebuffed by the Anfield outfit. Neither club has yet to acknowledge the bid, though it's speculated that the North London club could be using Suarez's discord to further their own ends.
Earlier this week, bookmaker William Hill suspended Suarez to Arsenal betting after a flurry of activity made the unexpected move look more and more plausible — though the more realistic bet would be that Wenger is faking the Suarez interest to force the hand of Real Madrid in their on-going negotiations for striker Gonzalo Higuain. That would make sense since the French-born Argentine is looking to come to England — not escape it. Suarez has stated his main reason for wanting to leave the jolly ol' isle is his incessant and ongoing vilification in the English media. The News Desk will admit that fact checking isn't always it's strong suit, but a quick internet search tells us that North London is actually a part of London which — lo and behold — is in England. More on this if Arsenal up the ante or convince the city-state to secede from the United Kingdom…