'A view from the travelling Kop' Preston 0-4 Liverpool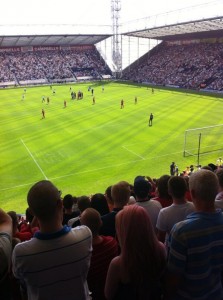 The first of our pre season friendlies was greeted by beautiful 25 degrees sunshine- making our new Spanish acquisitions feel right at home! Indeed the walk to the ground was filled with the eagerly anticipated debuts of Iago Aspas, Luis Alberto, Kolo Toure, and Simon Mignolet. Also very telling that there was no mention of Luis Suarez both before, during, or after the game. Divorce papers in post on that one I believe…
The match started at a good tempo, with the away end filled with a red haze as the now customary Pyro's were set off by the red army who had filled the end opposite the aptly named 'Bill Shankly Kop'! It was pleasing to see Jordan Ibe getting a start, and he was right on his game as he foraged and probed up the left hand wing at every opportunity. The little magician Phillipe Coutinho tucked behind him threading passes through at will. Some player that lad. Also noted how well Jordan Henderson played during the first half. He controlled the midfield and showed real discipline and maturity. For me, our most improved player and definitely worth the jersey.
Our first goal came courtesy of a Coutinho penalty, with a 2nd following an excellent shot by Ibe. He looked totally astonished as the ball hit the net-saying afterwards that he was in such shock he didn't even know how to celebrate it! Judging by Ibe's first half performance, we'll be seeing a lot more of him over the next few years. Also noted just what a great organiser Kolo Toure is. He is so tactically aware and I've got no issues seeing him barking orders at Daniel Agger and others. Gonna be a great addition is Mr Toure. Half time brought ten changes, with only Mignolet retaining his place for the 2nd half. Cue Aspas and Alberto.
The pleasing thing about the alterations was that we didn't appear to play differently, showing positional sense and understanding of what was required by Brendan. An absolute stand out for me was just how sharp Raheem Sterling looked. He looked super lean, super fit, and as sharp as a razor- and it was of little surprise when Iago Aspas played him through for a coolly taken third goal. Real high hopes for Raheem this season. Our fourth came courtesy of Iago Aspas's first in Liverpool red-a great finish with his left foot. Not wishing to pile pressure on the lad, but he reminds me in balance etc of Paulo Di Canio- if he turns out to be half as good as he was in his prime there'll be many happy Kopite's!
The pluses from the match were that aside from Glen Johnson who looked a little 'rotund' the players looked fit, and hungry for action. The new signings all looked like good additions, and the lads maybe looking to be moved on did their chances no harm either. There'll be tougher tests ahead, but for the first pre season match, this was pleasing for all reds. Lets hope we add some more quality over the next couple of weeks, and that Mr Suarez keeps his thoughts to himself- cos gauging yesterday, there was little love for the guy….. YNWA.