Jorginho vs Inter Milan: Video and Furitive Speculation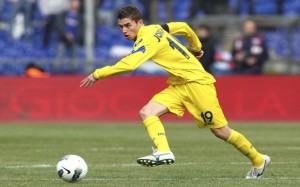 Liverpool boss Brendan Rodgers has a well known fondness for versatile players and Hellas Verona midfielder Jorge Luiz Frello Filho — better known as Jorginho — falls firmly into that category.
After seeing his number one transfer target sign for Champions League runners-up Borussia Dortmund, it's time to move on from that whole sordid affair and, if anything you read on the internet has a semblance of truth, it would appear that Rodgers has done just that with media reports in Italy last weekend linking the Reds with a opening bid of £7.7mil for the Brazilian born Italian. Liverpool are thought to retain an interest in bringing Xabi Alonso back to the team where he made his name, but with the Spanish midfielder playing down suggestions that he's England bound, the link to Jorginho still looks furtive at best, but still a touch more plausible than a homecoming for the Spaniard; to be fair, he does fit the Anfield model a little bit better.
Video by the always entertaining LFC TikiTaka
While few would be foolish enough to argue Alonso's pedigree, there are even more that would place their money on Jorginho making the switch to the Reds instead. Between wages and age, the Spaniard is quite a way off from what's becoming the norm for Liverpool.
After helping Hellas Verona win promotion to Serie A last season, the highly rated midfielder put himself on more than one radar with Arsenal and AC Milan also thought to retain an interest in the youngster. So far, Rodgers has signed 4 players this summer with only one of them — proven Premier League defender Kolo Toure — being over the age of 26; and at 21 years of age, Jorginho certainly fits in better with this crowd than the older Alonso. His relatively low-key status and adaptability also put him firmly in the running for a switch to Merseyside.
Jorginho, who's chosen to represent Italy instead of his native Brazil at the international level, made 76 appearances for Verona since arriving from A.C. Sambonifaces back in 2011 and has established himself as a fan favorite with a number of key displays helping his side achieve promotion to the Italian top-flight. Although his reputation in Italy is growing in stature, when it comes to the English Premier League, he remains a relative unknown, unproven player and this is a gamble — though one Rodgers seems willing to make.
Without any European football to pad the coffers next season, the Liverpool boss has relied on his scouting network to identify younger — and arguably cheaper — options to be the brick and mortar for what he's building on Merseyside. Recent addition Luis Alberto spent last season playing for the Barcelona B squad, and with the Catalan giants denying the option to sign the forward permanently, his parent club Sevilla were free to sell him on to the Reds. Although there's no complicated ownership issues to deal with, Jorginho is another player that didn't spend last season playing in the top-flight and should he be signed up, would be another calculated risk on the part of Rodgers.
If you're going to build a squad based on the development of youth, there's going to be bad apples in the bunch and though no one is able to predict whether Jorginho will come out sweet or sour, suffice it to say that each and every player, regardless of stature, is a gamble. Identifying the next big thing is like finding a needle in a haystack, but if you don't take a chance on players like Jorginho, someone else inevitably will.
–steven.
Thanks goes out to LFC TikiTaka and the rest of the LFC video compiling crazies out there for making the life of a blogger easier.