Gerrard Wants Suarez to Stay, Rodgers Wants Quality Over Quantity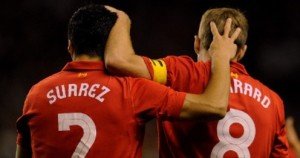 August is upon us and as the News Desk braces for a flurry of transfer activity coming out of Merseyside, proceedings are decidedly flat this morning with Liverpool captain Steven Gerrard trotting out the old cliché that keeping a player is as good as signing a player – at least this time, it's partially true.
It goes without saying that the skipper is referring to want-away striker Luis Suarez and Gerrard, speaking to the Liverpool Echo, was frank in his understanding that selling the Uruguayan to Arsenal would only make things worse. "If we lose him then the challenge becomes even more difficult for Liverpool. It's that simple" acknowledged the midfielder who also went on to gently prod the Reds hierarchy to get busy in the transfer market. "If we get the couple of marquee signings we need and keep Luis that will give me confidence that we can compete. Keeping Luis could be our best signing of the summer." Gerrard has almost always been a company man, but this word through the press could be in response to Suarez's concerns regarding the clubs new signings and his perceived lack of faith in the squad's ability to compete for a Champions League spot in the upcoming campaign.
With no movement on the Suarez front, Liverpool boss Brendan Rodgers has been quick to point out that Luis "understands" the clubs stance on not selling him to a domestic rival and continually says that "there is no news" regarding the transfer of the striker. Rodgers, who earlier this morning spoke with the official site about upcoming transfer plans, said that the club would be targeting quality signings rather than worrying about getting bodies in the door. "We've got money to spend on getting that quality in, but if it's not available I won't waste it for the sake of bringing a player in" said the Ulsterman. What the club considers "quality" might be vastly different from what Gerrard or Luis might call them, so we'll have to see what goes on as the transfer window starts to wind down.