Liverpool Target Lorenzo Melgarejo: Video and an Apparent Deal in Principle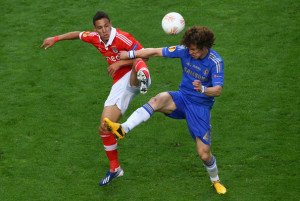 As the Reds look to strengthen their squad this summer, there are a number of positions that need addressing; one of them, without question, is at left fullback. There's been a few grumbles regarding current incumbent Jose Enrique as fitness, focus and injuries become a real concern as the players slog through a long season.
With the Spaniard being one of the only natural, viable options for that position, thoughts of a long lay-off or a blue streak of form is enough to keep the boss – and the rest of us — up at night. Last week we were linked with a loan move for supposed long-term target Aly Cissokho and with cash strapped La Liga club Valencia looking to shift some players off their books, a move for the classy Frenchman was looking likely with comments coming out of his camp angling for a move to Merseyside. Unfortunately, wage demands seem to have scuppered the deal, but out of the rigmarole came another target in Benfica fullback Lorenzo Melgarejo and with a move for the 22-year old apparently advancing quickly, we could be announcing our fifth signing of the transfer window — though that may take some time.
Video by Ostlin17
Although reports this morning suggest that a deal has already been agreed "in principal" for the Paraguayan, any move would depend on a work permit application being approved. The UK has strict transfer laws for players who haven't played in 75% of their national team's competitive senior matches over the past two years. With the 22-year old only racking up one senior cap for his country, the kybosh could be put on this bit of business before Brendan Rodgers gets a chance to give the former left winger a shot in the driver's seat.
Benfica boss Jorge Jesus took a stab at switching Melgarejo, who's played primarily on the left wing, to an attacking fullback only last season and the results have been promising with him making an appearance, and a pretty strong impression, in their Europa League final loss to Chelsea in May. Though he's not even a Liverpool player yet, early criticism of the newly minted defender by YouTube warriors and amateur scouts has been a bit harsh with a few calling for the plug to be pulled on the deal completely. Admittedly, many of their concerns don't come without merit; still, it can be argued that the South American hasn't played under Brendan Rodgers yet.
The Ulsterman has a knack for getting the best out of his players and with sweeping improvements across the pitch – Jose Enrique, Stewart Downing and Luis Suarez being prime examples -credit is given where credit is due. It's hard to compare a relatively inexperienced youngster to the likes of an old pro like Glen Johnson, but many of the drawbacks that come along with the style of play that made the England defender a valuable asset are the same concerns that have been raised with Melgarejo. Attacking fullbacks tend to get caught out of position and have to hustle to get back when the ball is lost; that's what makes them an "attacking" fullback to begin with. It's that calculated risk that must be accounted for in the wider system and steps must be taken to insure another player will be available for cover when – not if – this happens.
The pace, trickery and keen eye Melgarejo possesses could be a boon for our cause when playing against a packed defense. Breaking down teams that "park the bus" was a problem at times for us last season and with the boss calling for more goals this time out, finding the net on a more regular basis against these sides would be the best way to do that. Although Melgarejo is unlikely to slot in immediately as a first team regular, he could play a key role providing not only depth, but options, where there were none before.
It's reported that the Reds will be given the option to sign the Paraguayan at the end of the loan spell for a fee around £7mil and should the highly rated youngster come through with flying colors, this could be a shrewd bit of business – and if he doesn't live up to expectations, there's no obligation to buy. Loan moves for young, unproven players are perfect for a team looking to build from the ground up with a sustainable business model and if Rodgers is able to pull Melgarejo in, this could be one position that was a real concern scratched off the list. Now, all we need is a center back, defensive midfielder…etc…
–steven.