Liverpool Target Diego Costa: Video, Stats and Remember When We Sold Torres?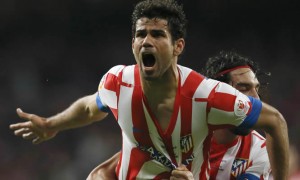 It's expected – almost customary – for a team to deny that a bid has been made for a player when news is just breaking and that appears to be the case with Liverpool's interest in Atletico Madrid striker Diego Costa. Playing for par, Los Rojiblancos have refuted claims that the Reds have come in with a £21.8mil offer for the Brazilian striker and insist not only that a bid has not been received, but that he's not for sale. All major news outlets, on the other hand, report are taking a differing view.
There's no shame in this particular tactic and though their tune may change even by the time this is published, there's little we can do until a response comes in. While Liverpool boss Brendan Rodgers wants to speed up negotiations after meeting a release clause built into the striker's contract, Atletico, on the other hand, will certainly want to regroup and confer with the player before making their next move. As cut and dry as this all may seem, transfers – especially ones involving this amount of money – are never simple and when you muddle matters further with a player of Costa's reputation, they can be just as complicated as the player themselves. Come to think of it, this is all beginning to sound a bit familiar.
Video by the talented YRCHDWorldwide
Another sign of our recruitment policy at work?

Although finishing isn't the only stat we want to look at, for most strikers, it's the one that their worth is so often based upon and in 44 games last season, Diego Costa found the net a total of 20 times against the likes of Real Betis, Valladolid and a memorable double against Osasuna in the middle of March.

10 of his 20 goals came out of 31 appearances in the very technical Primera División and a good eye for the net was a major boon to his cause with a little less than half — 23 of them to be exact — of his 50 shots in the league finding the target. With a total of only 54 shots taken in all competitions, 20 goals gives him a semi-respectable conversion rate of 37%, but when you look at only his shots that found the target — 26 in total and once again in all competitions — then it gets a bit lofty with 76% of those shots bulging the back of the net.

Both Brendan Rodgers and FSG take the numbers very seriously and that shows with the amount of money being put on the table to secure Costa's services. £21.8mil isn't a number to scoff at and it's believed that the bid is currently being considered by Atletico Madrid. Los Rojiblancos manager Diego Simeone hinted at a possible exit for the Brazilian despite letting top scorer Radamel Falcao leave for big spending Monaco earlier in the window and with the capture of David Villa and Leo Baptistaoto shore things up, options up front are certainly available.

So, does he fit the Liverpool model? At 24 years old, the Brazilian hasn't quite hit his peak and at 6 foot 2 inches he possess a kind of physical advantage that none of our strikers can currently boast which can certainly help him in adapting to the more physical aspects of the Premier League. Liverpool, as we all know by now, are focusing on a ball retaining, possession based game and this could be where Costa could falter in the system with a slightly below average pass completion rate of 75%; in the same vein, he racked up a very respectable 8 assists last season with 7 of them coming in league play. As he learns the system and is folds into our style of play, I'm sure Brendan Rodgers can get Costa up to speed with a minimal amount of fuss.

Stats courtesy of ESPNFC and Squawka
It's almost too easy to draw a comparison to Liverpool's current situation in the transfer market and the circumstances surrounding the sale of Fernando Torres to Chelsea. While the Reds negotiated with Ajax for the signature of one Luis Suarez in the days leading up to the close of the January transfer window, El Nino, then a Kop hero, was cutting a forlorn figure at Anfield.
Whether the sale of Torres was predestined with the capture of Suarez or not is a matter of contention, but with the Uruguayan now seeking a move away from Merseyside, it's feeling a touch like deja vu as negotiations are expected to commence with Diego Costa. Liverpool managing director Ian Ayre and manager Brendan Rodgers have both been adamant that Suarez is still "very much a Liverpool player" and that they have "no intention" of selling their prized asset; still, one must wonder if words match intentions.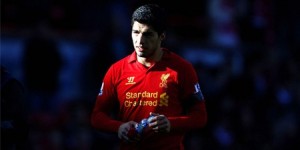 And much like when Torres headed for London, the arrival of Suarez was linked to — and almost eclipsed by — the departure of the Spaniard, with every article and bit of press regarding the arrival of the South American lending as many, if not more, words to the failure of Liverpool to hang onto their Golden Boy. There's little irony now, in an article supposedly about Diego Costa, that the Uruguayan remains in heavy focus even as a player who could very well be a potential replacement is examined.
Though obvious parallels can be drawn, it's worth noting that Liverpool are in a stronger position now, with the impending departure of Suarez, then they were when Torres was pining for a move to anywhere that would have him. While the Spaniard, much like the Uruguayan, had eyes for the Champions League, the Reds didn't look to be working as hard to retain his services as they are with Luis and if big money bids for the likes of Henrikh Mkhitaryan and Diego Costa don't show the want-away striker that the ambition — as well as the money — is there to match his lofty goals, then maybe there isn't anything we can do to keep him on Merseyside.
Should he stay, the Brazilian duo of Coutinho and Costa could prove to be an even more poignant foil for the talismanic striker then the likes of Steven Gerrard and Daniel Sturridge were during a season where he scored 30 goals in all competitions. On the other hand, should he go, Liverpool have already wrapped up a replacement and now have a fat chunk of cash in hand ready to spend on replacing the goals that went out the door with Suarez. In the event Costa doesn't arrive at Anfield, the club is still under no obligation to part ways with Suarez and have just under a month in which to act.
By the time I publish this, it could all be for not; the transfer could be wrapped up or packed away. Things change quickly in football but it would seem that Liverpool's end game in the transfer market has been re-ignited. Whether that means Suarez will be gone by the time September rolls around remains to be seen, but if that means Costa is in the door, and igniting the Premier League the way the Uruguayan did upon his arrival, then things might not be all that bad after all.
–steven.
Are we signing a replacement for Suarez or a player to compliment him? Is Costa going to come at all? What's the meaning of all this nonsense anyways? Let us know in the comments or find us on Facebook and Twitter. We'll probably be making, or eating, a sandwich.