Steven Gerrard vs Olympiacos: This One is for The Skipper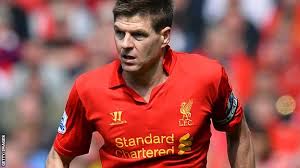 Considering the pantheon of top class European talent that Steven Gerrard has played a vital role in dismantling on the pitch, having Olympiacos line up as the opposition for the Liverpool captain's testimonial match would seem a touch underwhelming had it not been for that goal.
With all due respect to the 40 time Greece Super League champions, they're not discussed with the same reverence as the likes of AC Milan, Barcelona, Juventus or Real Madrid; still, it's the Skippers goal that secured Liverpool's progression into the group stages of the 2005 Champions League that's indelibly burned into the cerebral cortex of every human being that saw the thunderbolt fly forth from his boot and heard his celebration – just faintly and possibly imagined – above the deafening roar of an adoring and slightly bewildered Kop. Truth be told, it was complete and utter euphoria.
Tomorrows match will celebrate the career of Steven Gerrard and his 10 years as Liverpool captain with a few familiar faces returning to the Anfield pitch for another hurrah. Robbie Fowler, idolized by Gerrard while coming through the Liverpool youth team, and best friend and recent Red retiree Jamie Carragher will both make appearances at some point during proceedings. Whether or not either player will make an impact on this friendly match hardly matters – the focus will be on a player that has done more for Liverpool than can be reasonably expected.
As the Liverpool brass go in search of signings to propel us back into the lucrative embrace of the Champions League, any new faces on Merseyside should be issued a Steven Gerrard handbook upon arrival; the man is absolutely immense. An unstoppable 30 yard drive in 2001 that beat Manchester United 'keeper Fabian Barthez by a country mile truly announced his arrival in the Liverpool first team and he hasn't taken a second to stop since.
A goal in the Reds madcap 5-4 victory over Alves in the UEFA Cup final, the opening goal in their League Cup victory in 2003, the first of 3 goals in 6 minutes that saw Rafa Benitez's side claw back and eventually win the Champions League in 2005, a memorable brace in the FA Cup final a year later and a fantastic double against Real Madrid in 2009 could only be equaled – not quite eclipsed — by his hat trick from the substitutes bench against Napoli in the Europa League and, in 2012, another 3 spot against local rivals Everton. Pepper that never ending, and vastly incomplete list, with too many crunching tackles, last minute clearances, mind melting passes and the kind of on field leadership any manager would be proud to have then you might have a modicum of understanding of the impact Steven Gerrard has had on the team that he would die for.
As the Captain enters the twilight of his career, he's just as important to Liverpool now as he was then – possibly more so. With the Reds developing a team based on youth, mentors and role models are few and far between in modern football, but one only needs to look towards the Whiston born midfielder for inspiration. A player that is willing to lay his life on the line for the badge on his shirt is next to impossible to come by and in this age of mercenaries, Gerrard has begun to take on the odd appearance of a footballing relic; players spending their entire career at one club, their local club no less, is almost unheard of these days, but the Skipper has stayed the course and with his testimonial match, and the new season looming on the horizon, he'll be as welcome an addition to the starting lineup as he was 5 years ago.
–steven.