Jay Spearing Joins Bolton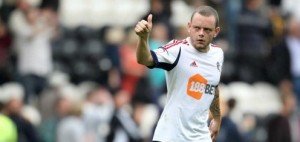 It's been a lazy day around the News Desk with the sun peaking in the window and a nice cup of tea steaming dreamily next to the keyboard; it's been so lazy, in fact, that in the aftermath of Jonh Henry's proclamation on Suarez, we forgot to mention that Jay Spearing has completed a move to Championship side Bolton Wanderers.
The diminutive midfielder was the subject of interest from both newly relegated Wigan Athletic and Blackburn Rovers earlier in the window, but he was said to have his heart set on a move back to the Reebok Stadium where he spent last season on loan. Spearing, who made his bones as an academy player at Liverpool, fell out of the frame at Anfield last summer as incoming boss Brendan Rodgers introduced a more technical style of play that didn't quite gel with the scrappy 24-year olds strengths. After being named Trotters player of the season, manager Dougie Freedman made Spearing his top transfer target and, after some finagling, finally sealed the deal for an undisclosed amount.
"That's what struck me about Jay – not only was he a fantastic football player with a great pedigree coming from Liverpool, but his hunger and desire to get better was really the thing that struck me" said Freedman after confirming that the midfielder had agreed to a four year contract at the Reebok. We here at Paisley Gates wish Jay and his family all the best in the future and look forward to seeing him back in the Premier League – where he belongs — in the near future.