Downing Completes West Ham Move, Guilherme Siqueira Arrival Imminent?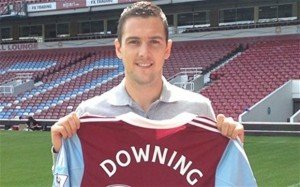 With news filtering in that Stewart Downing has completed a £6mil move to West Ham United, there's increasing speculation that Granada left-back Guilherme Siqueira will be arriving shortly in a £5mil move that will tick another box off Reds manager Brendan Rodgers pre-season list.
If shuffling under-performing, over-paid players off the pay-roll was priority number one, it's safe to say that Rodgers has been doing an admiral job with Andy Carroll, Pepe Reina and now Stewart Downing making way; though the considerable loss taken on both Carroll and Downing – as well as the fact that we're paying part of Pepe's wages for him to play at Napoli – continues to be a point of contention with the more fiscally minded. Downing will be joining Hammers boss Sam Allardyce at Upton Park on a four year deal after initially spurning the advances of the London club.
The 29-year old preferred to stay and fight for his place in Brendan Rodgers squad – and hold onto his £80,000 per week pay packet – but ultimately realized his place in the first team would be limited at best. "It's a great opportunity for me being here, it's a great club and I'm really excited to get going" said the winger who will join former Anfield alumni Joe Cole and Andy Carroll in the capital. Meanwhile, the Reds are believed to be on the verge of landing Brazilian left-back Guilherme Siqueira from Spanish side Granada. Talks are reported to be on-going with the 27-year old ready to make the switch to Merseyside as competition for current incumbent Jose Enrique. More on this as it inevitably takes some sort of weird twist…