Is Steven Gerrard Passing on the Baton?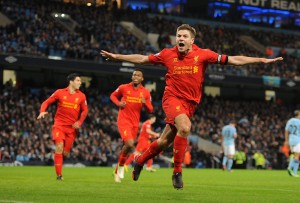 Steven George Gerrard; the name that has been iconic around the city of Liverpool, whether it's about his loyalty, determination, passion or penchant for saving Liverpool in embarrassing situations, Gerrard never fails to do the Liverpool shirt right. At times, as much as I'd hate to admit it, Liverpool has been a one-man team and without him we would have definitely failed to qualify for the Champions League regularly.
Barring his partnerships with Spaniard Fernando Torres and Uruguayan Luis Suarez, a late Steven Gerrard special was imminent when looking for an equalizer at Anfield. The atmosphere would be so tense you could cut it with a knife; the fans would be praying for a cross to be headed out of the box and fall to that one man who could lift a stadium by waving his wand of a right foot to produce his trademark screamer.
However, we were less dependent on Gerrard last season than ever. With the brick wall of a defense in Jamie Carragher and Daniel Agger, a consistent defensive midfielder in Lucas Leiva and a mouthwatering attacking trio of Suarez, Coutinho and Sturridge, the England and Liverpool captain could get a well deserved rest going forward. Even then the big Scouser still managed to pick up 10 goals in 46 games — including that Steven Gerrard special against Manchester City; what a hit son!
Though it may have dwindled a touch last season, Gerrard's influence will be as important as ever. With the retirement of veteran Jamie Carragher and the loaning of Spanish keeper Pepe Reina, the dressing room now lacks voices to carry the atmosphere behind the scenes. The Captain must use his experience to influence the young players who may be crucial members in the team in five years time; Jordan Ibe, Raheem Sterling, Andre Wisdom and Jordan Henderson will all need to work hard to become established members in the team and if they want to build similar reputations to Scouse duo Gerrard and Carragher.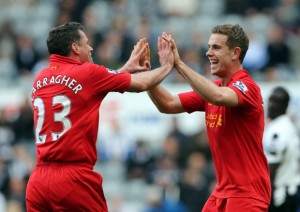 Carragher's departure will obviously open some doors for some players in the dressing room, though I can't see anyone else screaming gibberish on the field! Player's such as Jordan Henderson will hope to get their voice across as the 2013/2014 season seems ripe for the youngster from across the Tyne. He'll have a point to prove after an improved second season on Merseyside. Newly appointed vice Captain Daniel Agger will be stepping up as the loyal Dane will be hoping to establish a partnership with new signing Kolo Toure and keep as far away from injuries as possible. Agger has been widely seen as a top player at the club and interest from Barcelona proves that; most supporters are calm on that front as he isn't shy to reject world class teams to stay at his beloved Liverpool. Can you really see him leaving with YNWA tattooed on his knuckles? Neither can I.
Also, Joe Allen, a player we perhaps think is older than he actually is. At only 23 years old, the Welshman will have plenty to prove after a disappointing debut season on Merseyside. The first dozen or so games Joe Allen played in, I honestly thought he would be one of Liverpool's best players throughout the campaign; if it wasn't for a shoulder injury he had been carrying whilst playing, perhaps he would get more recognition. The 2013/14 season will hopefully be generous to 'The Welsh Xavi' as he looks to kick off his Liverpool career in the right direction. Unfortunately, covering for Gerrard and Lucas is the squad role I expect him to have, though it will be good experience learning from the duo.
So what's in for the Skipper in the next couple of years? To be honest, whether Gerrard will retire of not ultimately depends on whether he can stay free of injuries. With the slight possibility of him retiring soon, I'm sure every Liverpool supporter will savour every last moment we have with him. When the day comes that he confirms he will be retiring will put tears in our eyes as our favourite player will go on to the other side. The sadness will hopefully be juxtaposed with happiness and a celebratory delight that a wonderful man has done something that he loves with the city he loves; playing football with Liverpool was all he ever wanted to do. Although he doesn't have a Premier League medal, and getting one in the next 5 years or so doesn't look likely, he will have a massive trophy cabinet, personal achievements and the memories that a footballer only experience's once in a life time.
-Kvarne
Do you think Gerrard is almost ready to call it a day? Who's going to step up and replace him when he's gone? Let us know in the comments section or drop me a line on Twitter. While you're at it, put Facebook to good use.