This Could End Scoreless: Stoke Preview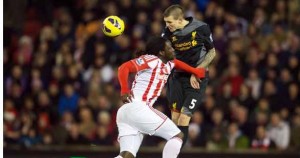 In my season preview, I wrote that a fresh fixture list is always a cause for optimism, but, as positive and life affirming as that might sound, opening the season against Stoke City tempers that sunny disposition quite a bit. The Potters, as you already know, like to spoil our fun.
You have to reach all the way back to March of 1959 to find the last time Stoke City won at Anfield and Mark Hughes, in his first league match in charge of the Potters, isn't likely to break that bit of hoodoo. What is likely to happen though, is a draw — scoreless or otherwise. Liverpool have failed to secure an opening day win for four years on the trot and their visitors tomorrow have secured only one victory in their last five attempts. If you couple that with the pair of dour nil-nil stalemates we've had the pleasure of sitting through during Stokes last forays to the Red half of Merseyside, calling up the bookie to put a fiver on a draw is starting to sound like a decent bit of business.
With news filtering in this morning that want-away striker Luis Suarez is back training with the first team, you may want to have him cancel your bet that he'd be joining Arsenal by the close of the transfer window. Though the Uruguayan will be playing no part in tomorrow's proceedings, having six matches left to run on a ten match ban, a commitment on behalf of the talismanic striker could be a boon to morale. Yesterday, Brendan Rodgers said he wouldn't let Suarez's antics "sabotage" the progress the squad was making and ahead of their first match of the season, praised their work ethic.
The Reds had a very promising pre-season, scoring seventeen goals and conceding only two in seven outings – though those results seem to be the sugar that makes the medicine go down. The 1-0 loss to Celtic in the "Dublin Decider" was a telling sign, even if a number of key players missed out through injury. Still, Rodgers is ready for the new season and said "The players have set out, their concentration has been brilliant and we are all very determined this year" in his pre-match press conference.
Liverpool will be looking to avoid their slow start to last season by getting off on the right foot this time out and with the likes of Daniel Sturridge, Martin Skrtel and Daniel Agger looking likely to return to the starting line-up, things are looking up at Anfield. With Luis Suarez sidelined until late September, Sturridge will play a massive role in the opening fixtures and with the striker reportedly back to about 80% fitness, Rodgers will be counting his lucky stars. His opposite number, Mark Hughes, won't be quite as lucky and will have a few absences through injury with midfielders Brek Shea and Jamie Ness both ruled out of the Potters opening fixture – one that their new manager will be keen to win.
"In recent times my previous work has been overlooked as a consequence of having an exceptionally poor start to last season" said the Welshman ahead of his new sides visit to Anfield. "Hopefully we can redress the balance somewhat because it was a bit skewed in a negative way, people's perceptions of my ability as a manager." If you forget the fact that Stoke scored just 34 goals last season – finishing a whisker above relegated QPR in the scoring race — you might remember that they're also yet to score a Premier League goal in five visits to Merseyside; maybe asking for a win tomorrow is a bit much.
Then again, Rodgers asking for the same could end with the same result. Liverpool have scored only one goal and secured a total of two points in their last four meetings with the Potters – dire numbers indeed. Three points tomorrow won't be the end all, be all of the season, but it's always nice to kick off the season with a win. Pragmatic negativity aside, I've been wrong before and god knows I will be again. I wouldn't be too upset if this was one of those times.
–steven.
Did you get your MaxiMuscle fantasy football team in yet? Registration closes on August 19th. Don't sleep.