Lucas Leiva vs Stoke: Video and Stats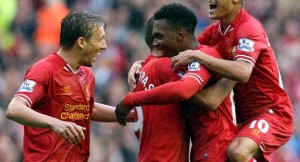 Ahead of yesterdays 1-0 win against Stoke City in Liverpool's Premier League Opener at Anfield, there were a few names that you weren't surprised to see in the starting eleven.
Steven Gerrard, Daniel Agger, Simon Mignolet and Philippe Coutinho all quickly come to mind, and then, there's another Brazilian — Lucas. These days it would be hard to picture a Liverpool starting line-up without the influential holding midfielder and yesterday was just another textbook example why he continues to justify a slot. It may seem surprising now, but there was a time when his services weren't appreciated around Anfield and, during the dark days of the short lived Roy Hodgson era, when he considered leaving Liverpool.
Video by @LFCMrBoyWunder
A controller or a destroyer?

In his 90 minutes on the pitch, Lucas spent the majority of the time, 31.8%, in the very middle of the park. Brendan Rodgers favours a "controller" to your typical midfielder destroyer, and we saw a bit of that today — with a healthy dose of carnage thrown in — as the Brazilian opened his campaign with another assured performance.

Lucas won an impressive 75% of his duels today. Against a team as rough and tumble as the Potters, he was successful in each of his 6 attempted tackles and 3 out of his 5 headed duels; consider that he's only 5ft 10inches going up against some of the monsters that Stoke consider "players" and that single stats just got a bit more impressive. The Brazilian was also on hand to successfully clear the ball out of his box on 1 occasion, as well as make 2 interceptions and commit 2 fouls.

While he's obviously known more for his defensive abilities, Lucas did pretty good going forward yesterday and completed 84% of his passes to a team average of 82%. He also played 2 key passes that created 2 chances for his teammates — 1 of them being a perfectly weighted ball that would look right at home on a Steven Gerrard highlight reel.

Stats courtesy of Squawka
"I nearly left. I knew they were looking for players. They signed Christian Poulsen at the time, and that was a message for me, that I was not really in their plans" said the Brazilian. Thankfully, Hodgson would be shuffled on in due course and under the guidance of new boss Kenny Dalgish, Lucas would go on to become the Reds 2010/2011 player of the season. The fans who used to boo him, were now apologizing.
"A lot of people come now and say 'I'm sorry, I'm sorry I used to doubt you and used to boo you. I'm sorry, I was wrong'." With the Liverpool fans now clearly under his spell, the defensive midfielder is looking to find his way back into the Brazil squad for next years World Cup in his homeland. "What I can add to Brazil is what I've been doing in Liverpool, providing security for the defensive players and to pass the ball to attack".
Liverpool supporters know all too well what the Brazilian is capable of and will be hoping that a quick start to the season will find Lucas back with his compatriots next summer. "In the last few years, we didn't have the best start – that is probably what cost us during the season" said Lucas ahead of Saturday's 1-0 win over Stoke City at Anfield. As the Reds won their first opening day fixture in five years, we're all hoping that those words will prove prophetic ahead of next weekend's trip to Villa Park.
–steven.
Go on and give @MrBoyWunder a follow on Twitter and give a shout out to @Squawka while you're at it.