I'm Not One for Making Excuses: Manchester United Preview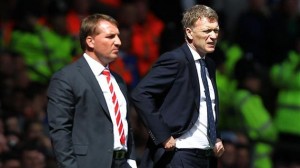 You have to reach all the way back to 1994 and a team managed by Roy Evans to find the last time Liverpool won their opening three fixtures of the season; with Manchester United visiting Anfield on tomorrow, there's a good possibility that tidbit of information will remain factual come Monday morning.
After banishing our opening day hoodoo against Stoke City, our first win on the road, and second on the trot, was confirmed last Saturday when Brendan Rodgers' men galvanized to deny Aston Villa an equalizer after a rocky second half saw the hosts take the initiative. The six tough points we rightly earned aside, tomorrow will be our biggest test of a still fledgling season. Though our old foe has a new, but still familiar face, there's never been any shame in losing or even drawing with United and nothing about that has changed. I'm not one to subscribe to cliché, but the form book going out the window in a derby will stand true – even if that means we're the ones losing the much needed momentum.
It's a bit odd, even at this early stage, to be looking down the league table at Manchester United. We're off to our best start in five years, tied with Tottenham for second place and sitting only a point behind leaders Chelsea with a match in hand while United, in contrast, played out a dour goalless draw with Jose Mourinho's side earlier in the week in what was David Moyes' first match at Old Trafford in charge of the Red Devils to keep them rooted in fourth. Replacing Sir Alex Ferguson was going to be a heady task for whoever took on the job and, though the Scot has only been in charge for a very short while, there's already been questions raised whether he's the right man to lead the league champions forward.
I'm not one to look for signs, but Monday's meeting with Chelsea was the first goalless draw for United in a run of 82 league matches; though it was a point gained, this is a point that will be lost on only a few. While Moyes's men lacked invention or ambition at the beginning of the week, Liverpool boss Brendan Rodgers presided over a 4-2 victory over League One stragglers Notts County the following day in the Capital One Cup that saw the Reds lose three players – including influential defender Kolo Toure – to injury. I'm not one to look for omens, but with Liverpool failing to take full points off their old rivals in their last 4 meetings, losing the defensive lynchpin to an already shaky backline will not bode well for the Merseysiders.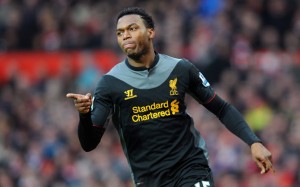 With both sides failing to make any significant additions in the transfer market, Sunday's match will be a welcome respite from critical eyes. The Red Devils have seen approaches for Cesc Fabregas, Leighton Baines and Marouane Fellaini turned down while Brendan Rodgers has been stifled in his attempts to bring in a marquee attacking player with high-profile moves for the likes of Henrikh Mkhitaryan, Diego Costa and Willian rebuffed. No matter what the outcome, both sets of supporters will feel justified in pointing to a lack of transfer activity should their side drop points on Sunday; this is a story as old as the transfer window itself.
Last summer, the Reds failed to bring in a striker to replace the loaned out Andy Carroll and many point that that as the reason for their early season loss in this fixture last year. Though this would be rectified in the January window with the addition of Daniel Sturridge – who would go on to score in the reverse fixture — in Sir Alex Ferguson's last league match at Anfield, the visitors scraped through with a 2-1 victory after Rafael Da Silva cancelled out a sweetly struck Steven Gerrard opener before a late Robin Van Persie penalty beat Pepe Reina to wrap up the points. Though Fergusons men failed to inspire, it was the hosts who couldn't find the cutting edge to punish them for a lackadaisical performance; this, we hope, won't be a case of history repeating itself.
I'm not one to wish for impossible things, but David Moyes managed only three wins in twenty-two Premier League matches against Liverpool and not a single one came at Anfield; though keeping this streak alive won't be easy, it's hardly out of our grasp. By the same token, United are undefeated in their last 13 away-matches in the league; keeping that streak alive won't be easy either, but, again, it's very much within their realm of possibilities. They trashed Swansea by 4-1 in Wales on the opening day of the season, and though their performance against a cagey Chelsea side was insipid at best, it's too early in Moyes' reign to rightly guess how he's going to set up at Anfield and what kind of strategy he'll employ – all told, I'm figuring he won't be coming looking for a draw.
If someone does take full points, it'll be a first for either manager. Brendan Rodgers is yet to best United as Liverpool boss and Moyes has yet to win at Anfield in the league. Although both sides will meet again in the third round of the League Cup, both will view this Premiership clash as far more important as the Red Devils try to keep pace with Chelsea and Liverpool look to qualify for the Champions League for the first time since 2009. Even at this early stage, three points on Sunday could be a catalyst for success for either side. I'm not one to look for excuses, but I wouldn't be surprised if no one knows what's going to happen.
–steven.