Help Get Hillsborough Short Film "Saturday" Made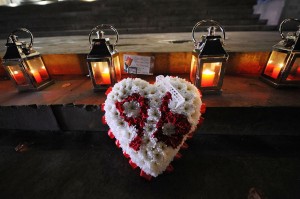 As eight year old Liam watches the events surrounding the Hillsborough Stadium disaster play out live on television, his thoughts are only of his brother Mark who is in Sheffield that day; so goes the plot of a proposed short film by writer director Mike Forshaw surround the tragic events of April 15th, 1989.
Basing the story partly off his personal experiences, "Saturday" chronicles how the day unfolded for 1 of the 24,000 families back home in Liverpool and their heartache at the grisly scenes playing themselves out at the FA Cup semi-final between Liverpool FC and Nottingham Forest. Although the loss of life at Hillsborough has been well documented, the grief of the families who waited for news in the ensuing chaos was blanketed across all of Merseyside and it's with this fresh perspective that Mike looks to tell is story.
With the help of a Kickstarter campaign, Mike is looking to raise £24,000 before September 8th to have the film made and his vision realized. The script, which won one of the top three prizes at the prestigious Nisi Masa European Script Pitch, is an ambitious one, incorporating vintage set pieces and props, archival video footage and a host of cast and characters. Funding short films is hard these days and that's one of the reasons that Mike and the rest of the crew are offering a number incentives for those who can lend a hand. All of the proceeds, minus the Kickstarter campaign fees, will go towards the budget for the film and help tell the tale of Hillsborough in a whole new light.
If you can help, please help by visiting the Kickstarter page for "Saturday" here.