Luis Suarez Dismisses Speculation Ahead of Being Pushed Wide on Liverpool Return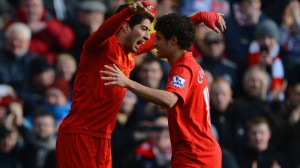 It's all gone a bit quiet behind the News Desk with the transfer market closed and the boys off on International Duty. To be honest, we're missing the happy squeal of the fax machine almost to the point that we wish the window was still open – but then we'd probably have to deal with more Luis Suarez rumors, wouldn't we?
Then again, maybe not; the Uruguayan, who still has a handful of matches to serve in his 10-match ban for biting Chelsea defender Branislav Ivanovic last season, is in South America this week ahead of a pair of crunch World Cup qualifiers. Upon landing in Montevideo on Monday night, he was quick to dismiss any rumors of a ditch attempt by Real Madrid to sign him on deadline day. "For, me, it has been closed for some time. I made the decision to stay at Liverpool some weeks ago, and I want to stay and work for the team from now on" said Suarez whose words may have been slightly influenced by Liverpool principal owner John W. Henry's very public insistence — amazingly just before the striker decided to stay — that he will not be sold to anyone, for any price.
Although speculation is mounting that upon his return he will be shifted out to the wing to keep the red hot Daniel Sturridge as the focal point of Liverpool's attack, Suarez insists he's just looking to win back the fans that have stood by him during his trying time in England. "I will go back to Liverpool to play, and I hope to be the same player the fans can trust" said the striker whose first game back will be the Reds trip to Old Trafford in the next round of the Capital One Cup – a match that may see him pushed out to a wider position. Sturridge, who has scored in each of Liverpool's opening three matches, is expected to keep his place up top with Philippe Coutinho moving to the middle as Suarez, who has missed the last 10 league matches through suspension, is shifted out to the wing to accommodate the pair. Now, if that does come to pass, we'll see what the outspoken Uruguayan has to say about that…