Luis Suarez vs Peru: Striker Back Among the Goals and Controversy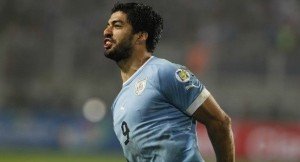 While the primary focus in England continues to revolve around the Three Lions World Cup qualifying campaign, many Liverpool fans can't be bothered with what the rest of the country is doing and see even these matches as an unforgiveable annoyance that interrupts – and very often hinders – Liverpool's league campaign.
Brendan Rodgers may be spending the next six days sweating on the fitness of Daniel Sturridge as the striker attempts to overcome an aggravated thigh problem before the Reds meet Swansea next Monday, but it appears the Liverpool boss won't be losing any sleep over the form and fitness of Luis Suarez as he prepares to get back in action later this month. The Uruguayan attacker is slated to make his first appearance for the Reds since being banned for 10-matches for biting Chelsea defender Branislav Ivanovic in the tail-end of the last seasons campaign when Rodgers side to travel to Old Trafford at the end of the month for a Captial One Cup fourth round clash. Questions have been raised whether the striker will be ready to go, but if his performance against Peru is an accurate gauge, then Suarez is already looking well tuned and primed for more controversy.
Video courtesy of Ashley Thornton-Jones
Say what you want about him, but the man knows how to find the net. After going down – some may say easily — under the challenge of his marker, Suarez opened the scoring with ease from the penalty spot just before the break to put la Celeste in the driver's seat. Before he'd smash home what proved to be the winner midway through the second half, another controversial incident would see Peruvian fullback Victor Yotun shown a straight red card for what can once again be described as a controversial call after replays show minimal contact with the striker. Perceived dirty tricks and black magic aside, even the whitest lily football purists would tell you that he doesn't look like a player that's been short on matches.
The Confederations Cup and a round of friendlies provide the Uruguayan with a number of opportunities to keep match fit during his ban, but his well documented struggles off the field had many concerned that Suarez wouldn't return to Liverpool the player that we all saw last term.
It was a summer of turmoil for the Reds striker as he pushed first for a move to Real Madrid – with personal terms widely reported to already be agreed – and then, when a move to the Spanish capital failed to materialize, he wanted to set up stakes in North London with Arsenal lodging two bids for his services. After primary Liverpool owner John W. Henry put his foot down with the assurances that the Uruguayan wouldn't be sold to anyone for any price, we know how that little bit of drama played out.
With Suarez once again resigned to life at Liverpool – for the foreseeable future anyways – speculation continues to mount that the prolific striker, who found the net an astounding 33 times and chipped in with 11 assists last term, would be pushed out to the wing to accommodate Daniel Sturridge playing up top until he earns back his right to be the focal point of the Reds attack. Whether or not that comes to pass is neither here nor there, but with the ever controversial forward on mark for Uruguay in their recent World Cup qualifier against Peru, there's little doubt that Rodgers can count on him to provide goals no matter where he plays.
–Steven
What do you think about Suarez's antics? Same old Luis or are you taking a dimmer view of his outbursts following his antics this summer? Let us know in the comments or hit us up on Twitter or Facebook.