Jonjo Shelvey Doesn't Regret Making Swansea Move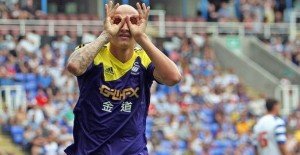 Ever since former Liverpool midfielder Jonjo Shelvey made the move to Swansea City, we've heard more about – and from – the 21-year old then we did during the three years he spent on Merseyside and ahead of today's meeting with his former club, he talked about how he doesn't regret his decision to move to Wales.
"I don't regret leaving because I'd probably be on the bench" enthused the England u-21 player. "It was a massive decision, but I feel that I've made the right choice in coming away." Although the Swans have made a lukewarm start to their third Premiership campaign – losing to both Manchester United and Tottenham before dispatching West Bromwich Albion in their last fixture – Shelvey has been in the starting eleven for each of them. After making only seventeen league starts in his entire Liverpool career, time on the pitch remains the main reason behind his £5mil transfer to the Liberty Stadium.
The former Charlton midfielder, who made the move to Merseyside under Rafa Benitez for £1.7mil in 2010, is best remembered – by Reds fans anyways – for cussing out then Manchester United manager Sir Alex Ferguson after a wild tackle saw him shown a straight red card. Shelvey, who found the net seven times for the Reds in 69 appearances, insists that playing time and not a rift with boss Brendan Rodgers was the driving factor that lead him to the Liberty Stadium. "It's not in my character to sit around and wait for an opportunity, I want to play now and make a name for myself" said Shelvey, who insists he had the choice to stay at Liverpool. "I wasn't pushed out. Brendan said that I could stay at Liverpool and fight for my place and people say I should have done that."
Liverpool remain the only unbeaten club in the early days of the Premier League season and when the two sides meet tonight, Jonjo admits it will be "strange" playing against his former club – especially Steven Gerrard. "He's the most complete midfield player England's seen, in my lifetime anyway, and he's been first class with me" said the former Charlton man. "He's the best player I've ever played with." Despite the admiration Shelvey might have for the England captain, there will be no love lost when the two sides meet later today at the Liberty Stadium. "
You will only know how good you are when you go up against someone like that so I'm looking forward to it" said the midfielder. Liverpool have never won their opening four matches of a Premier League season so a win tonight would not only catapult them back into top spot, but write the teams name into the history books. Swansea – who are without a win in their last six matches at home – certainly present a challenge, but not one that can't be overcome. Jonjo might relish meeting up with his old side, but suffice it to say that we're looking forward to it too.