Robbie Fowler Joins Warrior Sports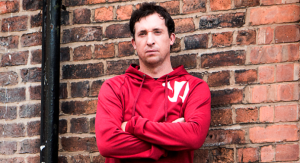 Does anyone else think it's about time Warrior Sports got someone Liverpool related on their roster? Well, the News Desk is happy to announce that the Warren, Michigan based company has signed up Reds legend Robbie Fowler as their latest brand ambassador.
Fowler, who found the net 183 times during two separate spells at Anfield, joins the like of Manchester United midfielder Marouane Fellaini, Manchester City defender Vincent Kompany and English ex-pat and United States immigrant Vinnie Jones in a growing list of current and former pros representing the Warrior name. If you played Warrior Sports Face-Off game last season, you had to deal with the ex-AFC Wimbledon hardmans ugly mug all season, but this time around, the rather svelte Robbie has taken up the mantle with a rather intriguing prize up for grabs.
Last season's winner got a trip to LA and a training session with Vinnie Jones, but this time around the stakes are that much higher with a shot for you and six friends to sit with Robbie in the Warrior box at Anfield and take in a Liverpool match during the 2014/2015 season.
Warrior, who took over kit making duties for Liverpool last season in a deal that eclipsed Manchester United's pace setting contract with Nike, has been taking bold steps to establish themselves in world football with a number of — shall we say memorable? — kits already under their belt; this doesn't seem to faze the man the Liverpool faithful affectionately called God though. "Warrior's vision is just what the football world needs – it's driven by a team rewriting the rules instead of conforming to the status quo and I like that" said Fowler after putting pen to paper. "It's a privilege to join a brand I believe is really going places."
We've heard some choice words used when it's come to a few of the new kit designs, but, Robbie has a point — pushing the limits is what makes life interesting and though it might sound a touch sacrilegious, if it's good enough for God, it's good enough for us.
Want a chance to hang with Robbie in Warriors private box with six friends? Get on Face-Off and show the world what you're made of.