Liverpool (2) Swansea (2): Reds Go Top Despite Poor Second Half Display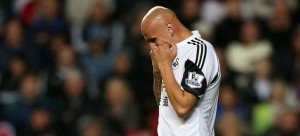 Ex-Liverpool midfielder Jonjo Shelvey had a part to play in all four goals as the Reds return to the top of the Premier League despite a lackadaisical second half showing that saw Swansea go close to snatching all three points as they pinned the visitors back.
It was a raucous opening period with Shelvey putting the hosts ahead after a mere 87 seconds; with Steven Gerrard not yet in match mode and debutant Mamadou Sakho left flat footed, a splash of luck saw the ball trickle favorably out from a Martin Skrtel slide-tackle back into the path of the driving midfielder who made no mistake to curl past Simon Mignolet and put Brendan Rodgers men behind for the first time this season. There's no doubting that the England u-21 man has talent to spare, but we've seen him implode on a few occasions and in-form striker Daniel Sturridge would help him down that nihilistic path only a few moments after he finished celebrating.
A lazy back pass happens to even the best players – Lord knows we've seen Steven Gerrard send back a howler or two – and when it do happen to you, all you can do is hope that Daniel Sturridge won't be on the other end of it. With the Reds pressing and Shelvey looping that golden moment in the sun in his head, that's exactly what happened; Michel Vorm had no chance as Sturridge latched onto the fire past the Dutchman and find the net for the fourth time in as many games.
The striker, fit again after somewhat controversially missing both of England's World Cup Qualifiers with a thigh problem, had a good chance to double the lead when Victor Moses somehow slipped through two defenders to send in and inviting cross, but his header was too close to Vorm and the Swansea stopper made the save. Until the close of the first half, Liverpool attacked in waves with kind of tenacity that you'd expect from a well drilled side. The Jacks, looking increasingly outclassed by their former boss, had the gates pressed to the breaking point, but it would once again be one of their own that would add the extra momentum and it would come in the form of – you guessed it – Jonjo Shelvey.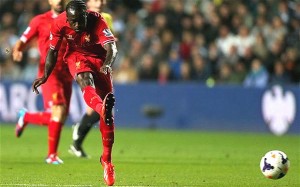 Oddly enough, the Reds weren't even pressing at the time; Victor Moses and Philippe Coutinho were causing problems on either flank for the majority of the opening period with the on-loan Chelsea man looking like he'd been in the side since day one and when he picked up a misplaced pass from Shelvey, it was like a gift. As Sturridge darted ahead, drawing a pack of defenders in his wake, the Nigerian winger ran straight at the retreating Swans backline before wrong footing Vorm with a shot from the top of the box to put his new side ahead.
Debut goals are always something special and this would certainly be one for the highlight reel as the Reds went into the break looking like they deserved to be on top. As the two sides switched and the second half got under-way, so did the momentum as Swansea ripped the carpet out from under our feet. Suddenly we couldn't get a touch let alone time on the ball. The dynamic, flowing game we grew quickly accustomed to in the first half vanished and as Coutinho went down injured, so did the likelihood of us getting out of Wales with three points.
This would be the first of seven games in 21 days for the Swans as a busy Europa League schedule sets out to test their resilience, but they showed what kind of spirit boss Michael Laudrup drilled into them with a perfectly executed leveler. We failed to create a single chance after the Brazilian was withdrawn, bar a wasted Steven Gerrard freekick, and it was only a matter of time before the Jacks drew level with – you guessed it – Jonjo Shelvey providing the ammunition. Michu, who had been borderline anonymous for the first half, would recapture the goal scoring form that made him such an exciting player to watch last season when he beat Andre Wisdom to a header that Shelvey had perfectly placed in his path after Leon Britton was allowed to chip the ball in; cue pandemonium.
We saw Liverpool fall back during the second period during their three opening fixtures, but we always looked we had some sort of chaotic control over proceedings; not against Swansea though and by the time the ref blew the final whistle after an absolutely agonizing five minutes of injury time, we were left feeling shell-shocked – yet still somehow, our name is back on top of the league table.
It's not hard to look to the positives when Arsenal, Tottenham, the pair of Manchester clubs and Chelsea are looking up the table towards you, but you are left with a sense of how fleeting it is after that second half performance. Sure, we had two players making debuts, a center half that has played less than a handful of matches since January, a child trying to fill in for England's best fullback, an injury to our other Brazilian and the magic of Jonjo Shelvey working against us, but we still managed to get away with a point. Not too shabby, but suffice it to say, it was only poor luck on the part of the Swans that saw us reclaim first place. Still, top is top.
Roll on Southampton.
–Steven