Daniel Agger, Philipe Coutinho and Daniel Sturridge All Fitness Concerns for Liverpool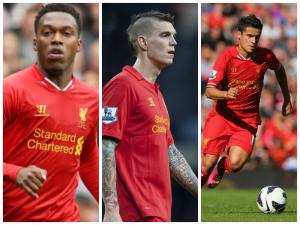 The News Desk had already been holding a vigil over the fax machine when word that Liverpool defender Daniel Agger was missing the trip to the Liberty Stadium with some undisclosed injury, but hastily lit a few more when Philippe Coutinho left the field with a shoulder problem and Daniel Sturridge played the full 90-minutes in Liverpool's draw with Swansea City last night.
Although official word has yet to come through from the club, the Brazilian is already being listed as a doubt for the Reds clash with Southampton this weekend. Post-match, Brendan Rodgers remained hopeful over a full recovery for Coutinho, but he sounded less than convincing as he refused to criticize Swans captain – and former charge – Ashley Williams. "I haven't seen the tackle. He's very sore in the changing room, and we're hoping it will only be bruising." The substitution of the diminutive midfielder was a key turning point in the match which saw Liverpool concede their first two league goals and split the points with Michael Laudrup's side.
A debut goal for on-loan Chelsea winger Victor Moses put the visitors ahead after a raucous opening saw former Reds midfielder Jonjo Shelvey open the scoring and in-form Daniel Sturridge pull the sides level within the opening five minutes. The English striker, coming off a thigh problem that saw him miss both of England World Cup Qualifiers, was revealed to be less than fully fit following the draw in Wales and is expected to undergo extensive treatment ahead of Saturday's match.
Another debutant was former PSG defender Mamadou Sakho who stood in for Daniel Agger after the Dane was ruled out only hours before kickoff. Though the club was ambiguous in saying why the vice-captain wouldn't be making an appearance, Rodgers has now revealed that a bizarre accident with a dumbbell was to blame.
"He just had a real freak incident in the gym just before he came out for training. He over-stretched when he was trying to prevent a dumb bell from falling on his foot" said the Reds boss. "He has just yanked his side, so we are waiting to see if that settles down over the next couple of days." Though any Liverpool side that doesn't feature Daniel Agger in the line-up is a cause for concern, Rodgers now has an ample stable of center-halves to call on should the Dane not recover in time for Southampton's visit this weekend – that is, if they don't injure themselves like dumbbells in the meantime.