Victor Moses vs Swansea: Video, Stats and a Debut Goal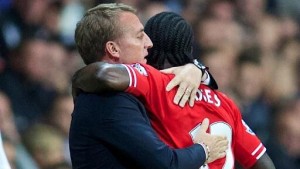 With all the Premier League experience Victor Moses has accumulated, you'd think he'd be older than 22. The Chelsea winger will be spending the season at Anfield on a season long loan after lighting up the Europa League for the Blues last season.
Though his scintillating form wasn't following him back from the continent, a goal on his Liverpool debut in Monday's draw with Swansea City gave us a glimpse of the kind of magic he's capable of. With the score level, a misplaced pass from Jonjo Shelvey sent the former Wigan man racing towards a retreating back-line. As Daniel Sturridge stretched an already out of shape defense with a clever run, Moses would finish coolly from the top of the box. "I gave him the face and put the ball in the back of the net" the Nigerian winger enthused. Although the hosts would go on to equalize, that bit of predatory prowess was exactly the reason why Brendan Rodgers looked to save him from a season spent warming the bench.



Video by LFCMrBoyWunder
Moses is happy with the point

Playing 81 minutes in your debut is a pretty good run out; after the terms of Moses's loan were confirmed on transfer deadline day, the subsequent international break interrupted his ability to get in some quality training sessions with the whole squad. Usually a players first match for their club is more of a feeler with maybe 60 minutes put under their belt, but when the Nigerian winger put the Reds ahead with his first – and only shot – of the match, it looked like he'd be in for the long haul.

Moses spent the majority of his time in the middle of the park – despite playing on the wing. With 31.11% in Swansea's half and 24.44% in his own half, in and left of the center circle, Moses ended up with 33 touches on the ball and completed 75% of his 20 attempted passes with an average pass length of 17m. By the end of it, they were 50/50 split between those played behind him and those played ahead of him. During Liverpool's meeting with Manchester United before Moses joined up, the Reds played only 2 crosses the entire match – a record low for a Premiership side since Opta began collecting stats for the league.

On Monday night, Moses attempted – and completed – 2 crosses on his own. He also contributed with 3 key passes with each of them coming from the left side and leading to shots. The Nigerian winger is known for fancy footwork and though the Swansea backline was strong, he was still able to successfully complete 3 of his 5 dribble attempts.

On the backfoot, the debutant won 58.3% of his duels, but went only 1/3 in headed duels. We saw him track back to help out Jose Enrique on a number of occasions and he not only won both of the tackles he attempted, he also recovered the ball twice – both times from the left of the center circle. As far as discipline goes, Moses only gave away one foul and was subsequently fouled himself on the opposite flank 2 minutes later. Out of all these stats, the most crucial may be the 1 interception that he made – that one coming from a poorly placed pass from Jonjo Shelvey which lead to the Nigerian scoring on his Liverpool debut.

Stats courtesy of the LFC Opta Chalkboards and Squawka
Last season in the Capital, Moses made 23 league appearances, but only found the net on one occasion. Although he fared better in Europe – scoring 5 vital goals in 10 appearances as Chelsea tasted Europa League glory – the second coming of Jose Mourinho and his subsequent spending spree pushed the creative attacker farther down the Stamford Bridge pecking order. With a season watching from the sidelines looming, a move to Merseyside gave him a shot a shining in a team where price tags and politics didn't dictate the starting eleven. "It was great to put on the red shirt, get back on the pitch again and enjoy my football" said Moses, who continued, "It's always great to get on the scoresheet. It was a great goal for me."
As time to sign players in the summer transfer window dwindled and a number of high profile attacking options fell by the wayside, whispers of a loan deal for Moses started to increase in volume and when the winger was left out of Chelsea's squad for their European Super Cup clash with Champions League winners Bayern Munich, it looked almost certain that the Nigerian would be trading London for Liverpool with only the finer details of the move left to be sorted out.
Moses would join PSG defender Mamadou Sakho and Sporting Lisbon youngster Tiago Ilori in making deadline day switches to Liverpool as Brendan Rodgers closed out a busy transfer window. Though he won't be here for good, Moses is still keen to help Brendan Rodgers and his men hang on to top spot in the Premiership and his goal last night was absolutely vital in the Reds reclaiming the summit. "We could have taken all three points but it wasn't an easy game for us. Coming here, we knew that it was going to be a difficult game" said the former Wigan man. Without an agreement to keep the winger on a permanent basis after his loan expires means Rodgers may be looking to fill his boots as soon as January transfer window opens, but for the time being, Moses can play a vital role in Liverpool's fortunes now that his own is firmly back in his own hands.
–Steven
What do you think? Will Moses play a key role in Liverpool's campaign or did we make a miscalculation bringing the Nigerian on board? Let us know in the comments or on Facebook or Twitter. While you're at it, give @MrBoyWunder some love.