The Phil-ins: 3 Ways We Might Cope Without Coutinho This Saturday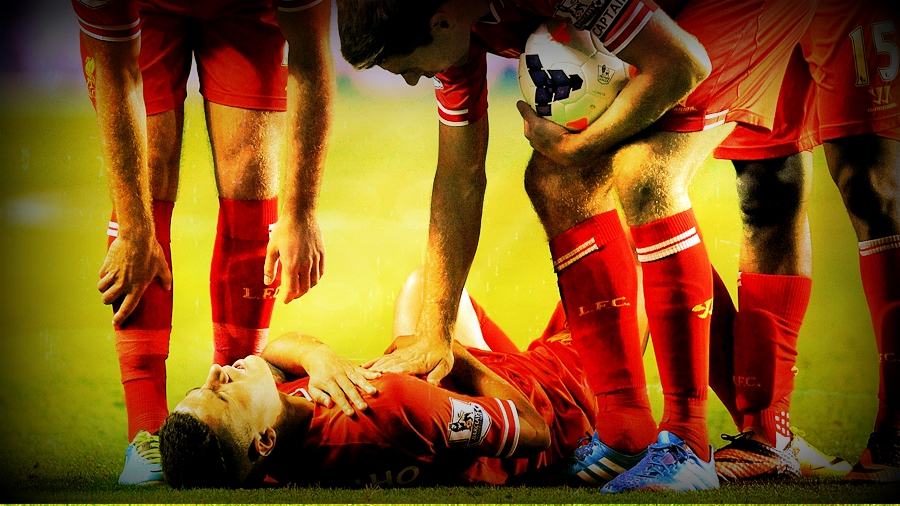 There's no way to window dress this kind of news: Philippe Coutinho, budding superstar, is out for 10 weeks with a shoulder injury, one that's severe enough to require surgery. Curse you Ashley Williams, curse you and your cheap intentional foul shenanigans.
So what is Brendan Rodgers to do? Now shorn of both his top quality playmakers (Coutinho and the still-banned Luis Suarez) for Southampton's visit to Anfield this weekend, some tactical rejigging is required. And it's not a simple tweak either – clearly we're a better team when Coutinho plays.
Yet we must adapt to playing without him, and quickly, if we are to continue collecting points as effectively as we have in the opening four matches this season. Here are 3 ways we might line up in Coutinho's absence.
While we don't have a true like-for-like Coutinho replacement in our squad, we do have someone reasonably similar in Luis Alberto. Having scored 3 goals in a 5-2 mauling of Sunderland in the U21 league earlier this week, the young Spaniard is in reasonable form and looked good in his brief cameo against Manchester United a few weeks back.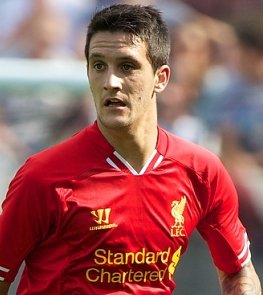 If we put Alberto in against Southampton, we are getting a player with quick feet, good vision and the ability to thread a through ball, much like we have in Coutinho. However Luis Alberto has minimal top level experience, is still adjusting to a new league and country, and doesn't offer the same penetrative threat when running with the ball, being somewhat slower than Coutinho is.
The real strength of this move is that Alberto is a possession player, and will hopefully help us retain the ball a little more effectively – an area of our game I feel has been lacking this season, particularly in the second half of most matches. With most of the other parts of the team unchanged, we will still have the attacking threat of Sturridge and Moses, while Jordan Henderson remains undroppable in his current form.
Another way of filling the Coutinho-shaped hole in our attacking midfield may be to shift Jordan Henderson central. A tenacious gut-runner who closes opponents down aggressively, Henderson is starting to demonstrate increasing levels of tactical awareness. He is beginning to stretch teams at times with his aggressive forward running, and his finishing seems to be improving in both quality and confidence.
While he's under-performed in the CAM position when he's been played there before, Henderson has impressive momentum this campaign and has already reclaimed the right-wing position that many of us (me included!) never wanted to see him play again after the 2011/12 season. I certainly wouldn't bet against him making a better fist of things this time around if he is moved centrally to cover for Coutinho's absence.
Strengths of this particular option would include Henderson being able to drop into centre midfield seamlessly and help Gerrard and Lucas out. While our midfield pivot have started the season reasonably well, Southampton have strength and aggression aplenty in their pairing of Wanyama and Schneiderlin, and an extra body – particularly an athletic, mobile, aggressive one like Henderson's – might be what it takes to turn the tide in our favour.
With Sterling my pick to come in and do lots of the hard graft Henderson's done down the right flank already this season, we probably don't lose too much in terms of workrate, however neither Sterling or Henderson have the incisive passing game of Coutinho or even Luis Alberto, so we would need them to penetrate in other ways, such as Sterling's dribbling and Henderson's off-ball runs.
Option 3: 4-2-2-2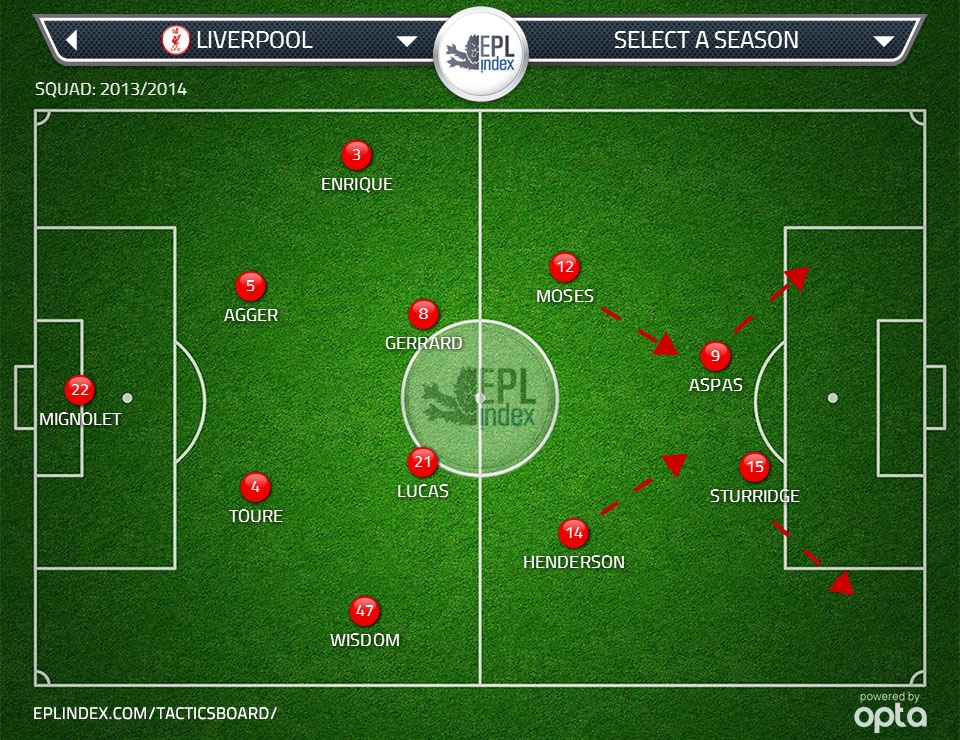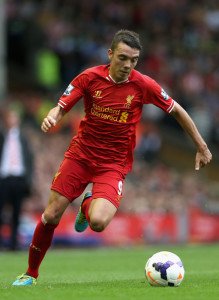 An option we toyed with in pre-season and have utilised for short periods, the 4-2-2-2 strikes me as possibly the best way of accomodating both Daniel Sturridge and Luis Suarez, if we can get it balanced properly. Instead of waiting for Suarez to return, perhaps it is simpler to begin the transition now and see how it goes at home, where our opponents are more likely to show a little less attacking intent of their own?
For this system to work, you need both forwards to be comfortable taking up wide positions to create space centrally. Sturridge and Aspas both have excellent movement and a tireless workrate, so this shouldn't be a problem for them. The two attacking midfielders, often termed "interiores" are also supposed to be flexible, in that they need to be able to play wide or centrally to equal effect. Henderson is mobility and versatility personified, while the little I've seen of Victor Moses suggests that he's got far more subtlety to his game than just blasting past a fullback at pace. Indeed the Nigerian looked very comfortable coming inside off his wing, which is no surprise given he was expected to be positionally flexible in his time at Wigan under Roberto Martinez.
The real problem with this system is that there are too many question marks – over Aspas' current form, over his compatibility with Sturridge as a forward pairing, over whether or not 4-2-2-2 becomes 4-2-4 in practical terms and leaves our midfield pivot unnecessarily exposed. While Henderson's awareness and mobility should see this system ostensibly be a 4-2-2-2 AND a 4-3-3 at the same time, depending on his decision-making, it still seems the riskiest of the three potential plans.
Final Thoughts
Personally I think I'd go for Option 2, as it's an attacking line-up that has the players to control possession but also counter-attack if need be. It centralises players in top form (Henderson, Sturridge) and omits players in poor form (Aspas). I also think the energy of Henderson will be important in nullifying Southampton's physical midfield threat, although I'm hoping our midfield will continue to play their "first-half" brand of football for a longer period of time in this game seeing as it's at home.
I did an informal and unscientific Twitter poll this afternoon, and while I'm not suggesting my followers are at all representative of the broader fanbase, Option 1 with Luis Alberto playing the number 10 role was the raging favourite amongst the respondents, so I also wouldn't be surprised to see that simple change be the one that is ultimately made by Brendan Rodgers. Wisdom of crowds and all that.
Whoever plays, I'm just hoping like hell for 3 points. Because if we get them, we're still top of the league, and even at this early stage, that's no bad thing.