Time to Save Face: Manchester United Capital One Cup Preview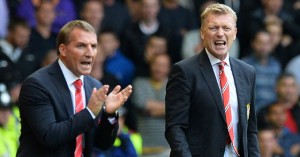 There's more questions then I'm able to count in the buildup to Liverpool's third round Captial One Cup meeting with Manchester United tomorrow night, but one sits head and shoulders above the rest; after an arduous weekend, one manager will leave Old Trafford worse for the wear, but which will it be?
Brendan Rodgers saw his side surrender their spot at the top of the Premier League in a less than acceptable fashion when a 57th minute header from Southampton defender Dejan Lovern gave the visitors a wholly deserved three points. Despite their impressive record, there were always going to be whispers surrounding the sustainability of our charge to the top and on Saturday it seemed the naysayers were almost giddy at being proved right. Rodgers will have a point to prove on Wednesday, but at this point, Manchester United manager David Moyes surely has more on the line.
After sitting idly by while his side lost out 1-0 on their first visit to Anfield earlier in the month, the former Everton boss presided over a 4-1 dismantling at the hands of city rivals — and fellow title hopefuls — Manchester City on Sunday. While the moon was a beautiful sky blue over the city that brought us Morrissey and the Stone Roses, Moyes, in stark contrast, was left red in the face as his second derby defeat of the month became a horrible, crashing reality. Both managers may have points to prove and questions to answer, but it will be the Scotsman battening down the hatches when the Reds come to town; United, and Moyes, can ill afford to come up on the short end on Wednesday.
In the last round, Liverpool needed extra time to dispatch a determined Notts County side after the League One strugglers scored two goals at Anfield. Some supporters might call it a "tin-pot", but neither manager will want to go out on a count of their closest rivals. Prolific striker Robin van Persie was a shock omission from the Red Devils squad on Sunday after he "felt something in his groin", though Moyes confirmed it was nothing serious; though he remains a doubt for the clash on Wednesday. "It's nothing serious. He could be involved on Wednesday or next weekend" said the Scot. While United sweat on the involvement of the Dutchman, Liverpool are on the opposite side of the spectrum with Uruguayan hitman Luis Suarez available for the first time since he was banned for 10 matches last April.
Despite the striker being available for selection, Rodgers isn't sure what his involvement will be. Liverpool have worked hard to keep Suarez in shape with a number of closed door friendlies and a special training regime designed to mimic the rigours of a real match. The Liverpool boss was quick to point out how "great" it would be to have the controversial striker back after the loss to Southampton, but in the run up to the Wednesday's match, he dialed back the rumours of a immediate recall to the starting eleven.
"He'll travel and we'll reflect over the next 24 hours whether he starts," said Rodgers, who continued, "How he has prepared himself over the last number of weeks has been fantastic. Everyone knows the depth of his quality and his attitude." Liverpool is going to need some of that quality as they try to push with a number of key players either sidelined or facing fitness concerns. Playmaker Philipe Coutinho is sidelined until late October along with fullbacks Glen Johnson and Aly Cissokho while Daniel Agger, Martin Kelly, Joe Allen, Daniel Sturridge and Jose Enrique are all under a close watch.
It's cliche to say, but the form book goes out the window for these one off matches. It doesn't matter what the managers say, anything can and will happen come Wednesday night no matter who's available for selection or what went down on the weekend. It's Liverpool against Manchester United in a match that probably wouldn't matter all that much to either side, but it's that age-old rivalry that gives it the edge and that's the reason the world — and the rest of us — will be watching.
–Steven
What do you think is going to happen tomorrow? Will the Reds heap the pressure on David Moyes or will the new United boss snap back after the derby embarrassment? Let us know in the comments or find us on Twitter and Facebook.