Coutinho Focused on Recovery After Surgery Deemed a "Success"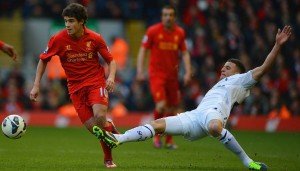 The News Desk isn't one for holding bedside vigils, but when reports came in that Liverpool playmaker Philippe Coutinho would be going under the knife to correct a shoulder injury picked up in the Reds 2-2 draw with Swansea City last Monday, there's been a big fat candle burning at Paisley Gates headquarters ever since.
Although the Brazilian will be sidelined until late October, some positive news came through the pipe line today with word that the surgery has been deemed a success. It's was always unlikely that a successful surgery will get Coutinho back on the pitch any faster, but it does mean that he shouldn't be out for any longer than expected and a league return against Arsenal on the 1st of November could very well be on the cards; though that's not soon enough for the clever midfielder.
"I now want to focus on my recovery and do everything right to be back as soon as possible to help Liverpool in the league" said Coutinho in an interview with Globo Esporte. "The surgery was a success and this is what matters the most. I'll be back soon." While those are the kind of words that everyone wants to hear, the Reds have been guilty of rushing players back too soon and considering the Brazilian's diminutive size – and importance to the team – he should be coddled back to at least near full fitness before being thrown back into the fire.
An awkward fall following a late challenge from Swansea captain Ashley Williams in the second half of Liverpool's draw with the Swans sent Coutinho for an early shower; after scans revealed that he would require surgery to correct the problem, many Reds fans began to sweat. The midfielder has yet to score in the Premier League this season, but his intelligent running and near perfect passing game has been a boon to Brendan Rodgers side who, before Saturday, were sitting pretty at the top of the table. Liverpool fans are banking that the return of Luis Suarez will help fill the creative gap left in the side by Coutinho's absence, but two clever South Americans are always better than one.