John Barnes and Sami Hyypia Would Welcome Liverpool Coaching Return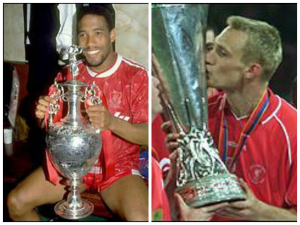 Last week, the News Desk got to rejoice when Anfield legends Robbie Fowler, Steve McManaman and Rob Jones returned to lend a hand at the academy, and Kenny Dalglish renewed his strong ties to the club by taking on a non-executive director role. Now, we'd have to check the Liverpool team betting page to see what the odds are that any other Kop Idols will be joining up, but it might be a good punt considering two of them are in the news right now.
John Barnes, who spent 10 years at Anfield etching his name into Merseyside folklore, has expressed his desire to take up a coaching role with the Reds. "I would most definitely take the job. I played for Liverpool and working there would be a great way for me to show my appreciation to the club," said the former Liverpool winger. "I feel that being part of the system would benefit the club a lot since I understand the culture."
The Jamaican born Barnes was back in the spotlight recently during one of Luis Suarez's many rows by shedding light on the realities of racism in the modern game. While most media pundits were speaking with a feigned sense of indignation, Barnes, in contrast, was making perfect sense and speaking with authority on the matter. Although the former winger is angling for a coaching position, he may be better served in the PR machine. "The reality is that players come and go, but the club remains and that is why it is important to always protect the brand of the club." Maybe he can take over speaking duties for Ian Ayre?
Digger isn't the only one looking for a shot behind the Liverpool bench though with former Reds captain and defensive monster Sami Hyypia saying it would be "a dream" to manage his former club. The Bayer Leverkusen boss also spent a decade on Merseyside and was part of that famous squad that won, among other things, the Champions League in 2005. With Leverkusen sitting third in the German Bundesliga, the big Finn is enjoying life in Germany – but he still has a "special place in his heart" for Liverpool. "I will not say that it is a goal, but after the 10 years that I played there, it would be a dream someday to be Liverpool manager." The News Desk isn't going to rule it out, but with all the people expressing a desire to manage the Reds, Hyypia is going to have to join the queue.