Lucas Soars and Aspas Finds it Hard as the International Break Drags On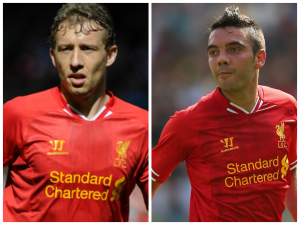 The News Desk has to admit that we're chuffed that Lucas got a recall to the Brazil squad, but by the same token, we're deathly afraid that Seleção manager Luiz Felipe Scolari is going to break our prized possession. The midfielder, on the other hand, isn't quite as worried.
"I'm really over the moon to be honest," the Brazilian told the official website. "I think it will help Liverpool, myself, and if I do well with the national team, it will help my chance to play in the World Cup. That's what I'm prepared to do." Lucas, who sat out last weekends 3-1 win against Crystal Palace through suspension, has played a key role in Liverpool's unexpectedly good start to the season; the Reds currently sit in second place, separated only by goal difference from front runners Arsenal.
Brazil, having automatically qualified for the World Cup as the home nation, will play a pair of friendlies with South Korea and Zambia in the coming days. Although getting called up and gaining a spot in the full squad for the big show are two entirely different things, this opportunity represents a significant step for a player still struggling to find full fitness after a notoriously difficult ACL injury pushed him out of the national picture. "To play for Brazil means everything because I know how many players Brazil have and how difficult it is to be involved in the squad," said Lucas, who continued, "Playing in the World Cup with my country, with my friends and family around, would be amazing."
While the midfielder orbits around Earth for the next couple of days, Liverpool striker Iago Aspas will have his neck craned up to see — with his feet planted on the cold, hard ground. The striker, is very much outside of the Spain squad, has found himself stuck behind Daniel Sturridge and Luis Suarez in the Anfield pecking order — and with the team crashing out of the Capital One Cup, it's not looking like he'll be getting off the bench for anything resembling a significant appearance anytime soon.
"It's hard to accept when you've spent the last few years playing, but I knew it wasn't going to be easy when I left Celta, and even more so now that my team is winning and joint league leader" said the Spaniard. Despite lighting up pre-season with some scintillating performances, Aspas has been having a horrid time stamping his name on his position — with only a handful of cynical yellow cards leaving any sort of impression. Still, he remains hopeful that he'll see the pitch soon. "Little by little I hope to get some playing time under my belt and resolve the situation" mused the striker.
While we wish Aspas all the best in his quest for playing time, Brendan Rodgers has so far stuck to an age old adage — if the team is winning, there's no reason to change it; just ask Daniel Agger.