Steven Gerrard Talks Halving Foreigners, Sturridge Surprise and Texts From Last Year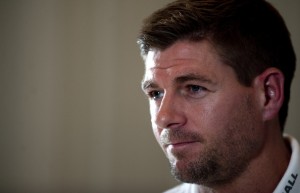 Ahead of the Three Lion's World Cup Qualifier with Montenegro later today, Liverpool and England captain Steven Gerrard has had a whole lot to say. We're used to the Skipper expunging on various topics through the media, but he's been unusually chatty as of late – especially on Greg Dyke's plan to limit the amount of foreigner players allowed in the Premier League.
A recent study showed that only 36% of the players in the Premier League were English; the Chairman has suggested this should be increased to at least 50% to nurture homegrown talent and bolster England's chances of success on the international stage. While this methodology might sound ludicrous to some, Gerrard – no doubt wearing his English hat instead of his Scouse one – has backed the plan. "Credit to him, he's trying to put a structure in place to improve the statistics of English players coming through" said the Skipper, who continued, "But we have to give it time. It's not going to happen overnight." While the News Desk – and most of the rational world – knows that increasing the number of home grown players isn't necessarily improve the quality of football they play, it is nice to see some of them earning praise without a system in place shuttling them through to the top – like, Daniel Sturridge.
The Liverpool forward, an early season Golden Boot candidate, missed England's last two qualifiers through injury, but is expected to start alongside Wayne Rooney against Montenegro this evening. Despite Gerrard getting to see what the boy can do day-in and day-out training with Liverpool, the Skipper admits the former Chelsea man is surprising him. "He's even better than I thought he was. He's different: razor sharp, great technique and can score any kind of goal." If England is going to make it to the World Cup in Brazil next year, they're going to have to find the net – and Gerrard thinks that Sturridge has what it takes to help lead the Three Lions forward.
"He can be a top England striker for a long, long time. He will get an awful lot of caps and goals and I am sure he can add himself to the great names back at the club as well. "Although the England skipper has been very vocal in backing Sturridge, he denies texting managerial hopeful – and at the time favorite for the England job – Harry Redknapp days before Roy Hodgson was given the top spot. "I didn't text Harry Redknapp's personal phone. I have never had his number" said the Captain, who was quick to give the former Liverpool boss his backing. "I'm delighted he got the job and I've played my most consistent football under Roy, so I have a lot to thank him for."
If Roy Hodgson being England boss means the Liverpool boys get next summer off, then the Reds fans will have a lot to thank Roy for as well.