Steven Gerrard Would Be Happy with Champions League Qualification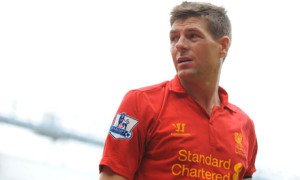 Liverpool may be sitting level on points with Arsenal at the top of the Premier League, but Reds captain Steven Gerrard isn't letting himself — or anyone else — get carried away with thoughts of lifting the one trophy that's eluded him his entire career.
The last time the Merseyside outfit qualified for the Champions League was when Rafa Benitez steered them to a runners-up finish and only four points shy to eventual champions Manchester United in 2009. Although the skipper, who will break Sir Bobby Charlton's England caps mark against Poland tomorrow, is staying pragmatic, he's not quite ready to rule his side out of the title race completely. "I'd never say never about our ­chances of winning the Premier League title," said the midfielder. "But if I'm being honest, that's not the aim. The aim is for a top-four place." A return to the Champions League remains the more realistic — and attainable — target.
A return to the pinnacle of English football remains the long-term goal of the club, but Gerrard, who is a one-club man, is staying focused on the present as he looks to make the people happy. "I'm the captain of my boyhood team. I have a special relationship with staff and supporters. There's a bond there" said the Skipper who conceded that when the side lose, he takes it hard. "You've let people down. The feelings the fans go through at the end of a match, I feel them too."
Liverpool failed to navigate the group stages of the Champions League the last time they qualified and questions remain whether the Skipper will still have what it takes to play at the highest level should he see his side achieve their ultimate goal. Still, it's hard to dispute that his heart is in the right place as he summed up his commitment in one simple phrase. "There's a lot at stake every time I pull on a shirt for Liverpool" said Gerrard, and it's that kind of mentality and understanding that will keep him going for years to come.