Daniel Agger Echoes Gerrard's Champions League Ambition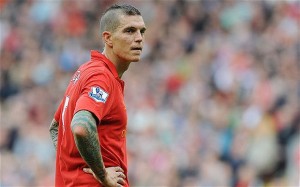 Yesterday, Liverpool captain Steven Gerrard confirmed that despite the Reds surprisingly good start to the season, a spot in the Champions League and not the Premier League title was the aim of Brendan Rodgers men. Today, ahead of his sides World Cup qualifier with Malta, vice-captain Daniel Agger echoed the skippers European ambition.
It been too long since the five time European Champions graced the continents elite competition and the Dane is looking for a speedy return. Speaking with Danish newspaper Politiken, Agger said "We would like to play in Europe, that is the most attractive, particularly the Champions League." The Reds are without any European football this season and after a suffering a speedy exit from the League Cup at the hands of Manchester United, the towering center half believes the side can benefit from the extra time off. "Fewer matches lets us recover better and we get more focused on the [Premier League] matches and that might be an advantage."
Agger's Denmark side will be hoping other matches go their way tonight as they teeter on the brink of being eliminated from World Cup qualification. They will have to beat Malta and hope that Bulgaria lose at home to the Czech Republic to have any shot of reaching the European play-offs and a shot at making the trip to FIFA's show-piece event next summer. Whether his national team qualifies or not, the defender has continued to speak fondly of Liverpool – and of his desire the win trophies.
After the club rejected a number of inquiries from Spanish giants Barcelona, the Dane spoke of his joy at remaining on Merseyside. "I'm glad I'm at Liverpool and playing well. We have a great team, and if I can win something it will be great. Liverpool is a huge club" said the vice-captain. There were doubts that he'd remain at Anfield past the summer if the Reds failed to qualify for the Champions League, but the situation we went through with Luis Suarez this past summer was never expected from Agger – and we never got it. "For me [staying at Anfield] it's also about making the team as strong as possible, because I'm hungry to win something. I believe winning things is possible."