'A view from the (travelling) Kop. Newcastle United 2-2 Liverpool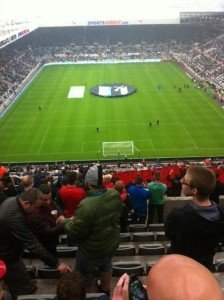 We set off from the North West for the 3 hour drive up to Newcastle anticipating 3 points, buoyed by last season's demolition and our positive start to the season. The talk on the drive up was about formations, who would be fit, and who Brendan would select. Sadly, I reckon he got it wrong.
We were on the back foot from the first whistle with Newcastle instantly controlling the game and over-running our yet again 'disjointed' midfield. I did think we'd settle down and get control of the game, but it didn't happen- before we knew it, we were 1 down following a good yet somewhat speculative shot from Yohan Cabaye which skidded up off the wet turf and nestled into the net. Stunned silence from the masses of reds sat high up in the North East gods. Maybe, Mignolet could've done a little better, but the shot definitely gathered pace after it had hit the turf.
The game ebbed and flowed from that point with our midfield getting cut through with ease. One thing learned from this game is that Victor Moses is not a Central Midfielder.
In my opinion we got out of jail just before the break when Suarez was fouled with a resulting penalty and red card issued. Stevie G placing his 100th Premiership goal away from the diving Krul and into the bottom right hand corner of the net. Game on…
The consensus was that we would simply batter Newcastle 2nd half as we'd been so poor during the first 45. We couldn't believe it when we fell behind again following some poor defending- although finished with aplomb by a local lad. 3 Centre half's on the pitch yet a simple cross and finish must raise questions for Brendan and his management team.
Their goal however did finally kick us into life, and from that moment we did play well, further improved by Moses being played in his correct position (out wide) and Luis Alberto coming on and putting in an accomplished cameo display. I really liked what I saw- a player with the ability to appear to have time on the ball to pick a pass. The balance of the team instantly improved and we created chance after chance finally leveling through a Suarez cross and a Sturridge finish- his 20th goal for us since signing. Not bad for a 'Chelsea reject'!
We had further chances to go on and win the game, but couldn't get through a resolute defensive display by the Magpies defense and Tim Krul.
Pluses for me were that Skrtel had an excellent game, Sturridge scored again. Henderson's 2nd half performance, Alberto when he came on and Moses once switched out wide. However, with my red glasses on it was definitely 2 points dropped. I really hope that Brendan and his team sort our midfield out sooner rather than later cos I am fearful at some point soon we are gonna get properly found out.
Its been a good start to the season, but I'm not getting carried away by our league position. I'm yet to see a 90 minute performance that has filled me with genuine belief that we may be one of the top 4 best sides in the league- Just my view, neither right nor wrong. YNWA.
–Mark