Liverpool FC Powershot Challenge Now Available for Android and iOS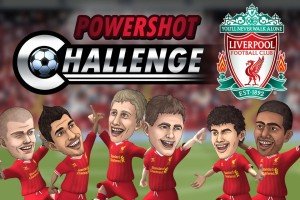 After successful launches for world football powerhouses AC Milan, Celtic FC and S.L. Benfica, our Reds have got in on the app action with their own version of the highly addictive Powershot Challenge.
If you've got an Android or Apple smartphone or tablet — and these days you've more than likely got one or the other — you can download the app for free in both the Google Play Store and the iTunes App Store and start competing for exciting, exclusive Liverpool FC prizes. Highscores and unlockable in app content is great and everything, but the Powershot Challenge gives you more than that by giving you a shot at winning real world swag just for playing the game — including an upcoming chance to claim a once in a lifetime VIP Anfield experience.
If you can swipe your devices screen, you can play the game and "recreate heroic goals by Suarez, perfect your pace and skills as Gerrard and make the Anfield crowd roar – all in the palm of your hand." The game also includes caricatures of Lucas, Philippe Coutinho, Glen Johnson and Martin Skrtel; though, to be honest, we've never seen the big Slovakian score an overhead kick before — I guess that's where fantasy and reality diverge ever so slightly.
App developers ICYou have plans to develop a further three games in the future as the Reds look to interact with their supporters on a whole new level. Liverpool FC Chief Media Officer Matthew Baxter talked about how "thrilled" he is that the club is working with ICYou to develop new content for the LFC family across the world, saying that he looked forward to them creating more "innovative games" for the Reds in the future. I'm looking forward to it too; anything that distracts me from work is fine by me.