Daniel Sturridge Appreciates the Advice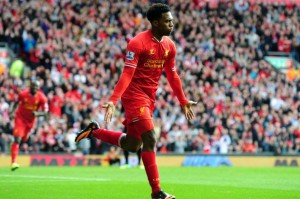 After Luis Suarez was banned for 10 matches after biting Chelsea defender Branislav Ivanovic, sports psychiatrist Dr Steve Peters was charged with finding out what the Uruguayan has wrong upstairs. Now, the News Desk figured that alone would take up all his time, but the good doctor has also had a chat or two with Daniel Sturridge and 24-year old is crediting him – and some advice from a former team-mate – for his blistering run of form.
"Steve has helped a lot in terms of mindset," said the Liverpool striker. "He's all about self-belief: don't go out there with the mentality of trying to do something, just let it happen." Peters, who has worked at Melwood for the last year and is credited by Olympic cyclists Chris Hoy and Victoria Pendleton for their showing at the Olympics, has certainly made an impact on Daniel. Since his January move from Chelsea has hasn't stopped scoring and currently leads the race for the Golden Boot with an astounding 8 goals this season – including an audacious chip against West Brom on Saturday.
While other strikers would kill to go on the kind of run that Sturridge is on, he insists that he's going to keep on searching for his best. "Even if I score three goals, I've probably had 10 chances, so should have scored five. I'll never get complacent." It's not only Peters that's helped the striker get his head straight; he also credits a chat over the summer with former team-mate Didier Drogba for putting him on the right path.
"I saw Didier in Miami this summer. He said the strongest thing an individual can have is the mental strength. He told me, 'It's not about the tactical, it's not about the technical, it's not about the physical. If you believe in yourself, that will set you apart," confided Sturridge. Though this all might sound like a Self Help book to you, you're probably not bagging loads of goals, are you? Time to get on the blower to Drogba and see what he has to say about your game.