Luis Suarez Not Interested in Real Madrid Interest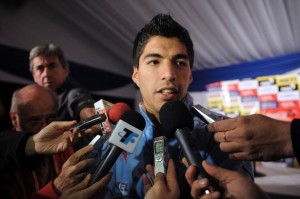 The News Desk thinks it's kind of early to be talking transfer windows and rumours, but hearts skip beats when the name Luis Suarez is used in conjunction with Real Madrid, so it was reassuring to read this morning that the Uruguayan striker brushed off speculation linking him with a move to the Spanish Capital in January.
With Los Blancos sitting six points behind arch rivals Barcelona and five behind neighbours Atletico Madrid, speculation has been mounting that Real boss Carlo Ancelotti is going to be dipping his toe in the transfer market this winter and that the Spanish club will come back in for the one they left behind – Liverpool striker Luis Suarez. If this even has a modicum of truth to it, the Uruguayan is, in the very least, feigning ignorance.
When asked if he knew of any interest from Real by Uruguayan radio station Sport 890, Suarez responded with a blunt "Absolutely nothing at all" before going to on expound on the excitement in the Liverpool camp. "In the team we are all really excited, looking forward and looking forward to a good season" said the striker. The Reds have been having a bit more than a good season and despite a 2-0 reversal to Arsenal on Saturday, lie third in the table — level on points with both Chelsea and Tottenham Hotspur.
There have been all kind of ridiculous amount and player plus cash deals that have been thrown around in the media, but the one thing we know for sure is that Reds primary owner John W. Henry said that Luis isn't for sale to anyone, at any price – something the American has stuck to thus far. Suarez's wandering eye has been well documented and with his attempts to engineer a move to Madrid, or anywhere else for that matter, supposedly on hold, the Liverpool faithful can sleep tight; for now anyway.