Philippe Coutinho vs Arsenal: Video and Stats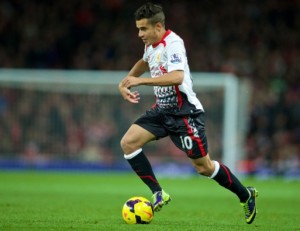 There were a few surprises when the Liverpool team sheet was released going into yesterday's clash with Arsenal at the Emirates Stadium and if 20-year old Jon Flanagan, and not Martin Kelly, coming in for an ill Glen Johnson didn't raise and eyebrow or two, then Phillipe Coutinho being named among the substitutes would of.
In a match that under normal circumstances would have been screaming out for the creativity of the Brazilian, Reds boss Brendan Rodgers decided to take the cautious approach and named the influential midfielder on the bench. There were sighs of relief from supporters who believe that he should be nursed back to full fitness following shoulder surgery and there were those — usually much more vocal in nature — fans who believe omitting the youngster was a massive foible.
Video by @MostarLFC
I doubt Rodgers sees a problem

It was a bit more than a cameo appearance and in his 45 minutes on the field, Philipe Coutinho reminded us how much we missed him. Despite being deployed on the left wing, the Brazilian spent most of his time drifting into the middle of the park with 26.98% of the match spent in the space between the center circle and the Arsenal box — a spot place we're sure to him in more often when he retakes the Number 10 role in the coming weeks.Although he never really threatened Arsenal 'keeper Wojciech Szczesny directly, he did get off 3 shots with 2 of them finding the target. His real threat came through his passing and, the rust aside, the Brazilian was able to complete 73% of his passes with an 18m average pass length. He passed forward just one less time, 17, then he passed back, 18 and it showed in the 2 chances he was able to create which included a trademark through ball in the 49th minute for Luis Suarez to run onto and a cross from the byline in the 73rd that found Daniel Sturridge in the box.

During the course of the half Coutinho drew 2 fouls and committed none — he also wasn't shy to track back with almost 20% of his time spent in our own half. As a mainly attacking player, we don't expect much from him defensively, but the Brazilian won 83% of his duels — including all of his tackles and 2/3 of his take-ons. Maybe all that time spent hanging out with Lucas is benefiting the youngster?

Stats courtesy of Squawka
After being introduced at the half for Aly Cissokho and being pushed wide left in a formational switch to some resembling 4-4-2, Coutinho showed expected signs of rust in the early going with a handful of misplaced, or mistimed, passes. Still, it didn't get the youngster much time to get back up to speed — something Reds boss Brendan Rodgers doesn't believe he should have done from the outset.
"To get even 45 minutes out of him was good because he only got clearance on his shoulder on Tuesday," Rodgers said. "There is no way he could have been able to play more than the length of time that he did." Even that might have been a bit of a stretch for a player returning from a shoulder injury, though as the weeks fly by, I'm sure we'll see him re-introduced to the squad and back to his best; we've got some important matches coming up, don't we?
–Steven
Like this post? Tell your friends and share it on Facebook or Twitter; it's not as entertaining as pictures of cats, but not everything can be cute and/or cuddly.